Ricky Hatton Promotions see Adam Etches record first-round victory in Sheffield
Adam Etches demonstrated his power by beating previously unbeaten Brazilian Alexandre Mendes inside a round.
Last Updated: 26/10/13 10:55pm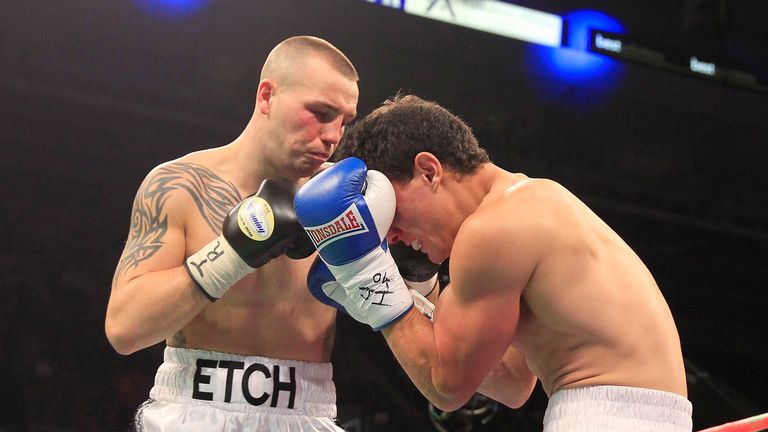 The promising middleweight retained his IBF youth title in a fight that, considering the knockout records of both fighters going into it, never looked like lasting the full 10 rounds.
In the end it didn't even make it past the first, Mendes' corner throwing in the towel just two seconds before the bell sounded.
Etches had looked set to end the bout before then, landing two consecutive straight rights that rocked his rival and left him lurching around against the ropes.
However, 'The Bomber' failed to pull the trigger just as the South American was seemingly ready to topple, instead turning his back and walking away as he guessed the referee was set to step in and wave the bout off.
The let-off seemed to give Mendes a second wind, and he responded by launching an onslaught of his own, albeit with limited success.
Yet just as it seemed the crowd - of which Etches had boosted by selling plenty of tickets - would get another round, the towel was launched into the ring to signal the end.
Tough kid
"He was a tough kid and I hit him with some good shots early on," Etches told Sky Sports afterwards.
"He's no world-beater but he is a strong kid and he came with an unbeaten record. In the end, the best man won. I'd trained hard for this - I was fit and I was landing punches. If I'm landing, there's only one way it's going to end.
"I'm still young and I'm only learning. I should've got him out there and then. I thought the ref was going to stop it, but he didn't. I won't do that next time."
A crowded domestic scene means Etches is not short of potential opponents, with promoter Ricky Hatton admitting Chris Eubank Jnr is one possibility they could consider in the future.
"He's doing really well," Hatton said of the 22-year-old, who now has a 13-0 record. "He's got an exciting style and he's a nice kid, he really wants to learn.
"It's very hard to hold somebody back when they're making progress like Adam is doing. There's a lot of talk about Chris Eubank Jnr, maybe that's one we can look at."
Meanwhile, fellow Hatton Promotions fighter Scott Jenkins stretched his perfect record to 10-0 with a fifth-round stoppage of Spaniard Antonio Rodriguez.
The man from Madrid had already been on the canvas when the referee stepped in to spare him any more punishment, much to the beaten fighter's obvious disappointment.
He showed he was still fit and healthy by doing some gymnastics in the middle of the ring, his flips entertaining the crowd and bringing a smile out of Jenkins, who is scheduled to be back in action again before the end of 2013.