Tommy Coyle is confident he is a better fighter after losing to Derry Mathews
Tommy Coyle is looking forward to putting defeat to Derry Mathews behind him when he takes on John Simpson in Hull.
Last Updated: 30/10/13 4:54pm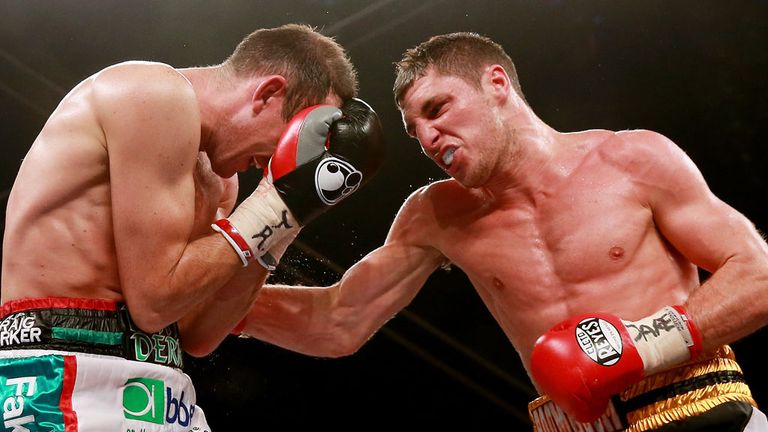 Coyle dazzled his home fans when bossing Mathews in their Commonwealth lightweight clash in the summer, only for veteran Mathews to end matters with a perfectly placed left hook.
The 24-year-old was in tears after the defeat but has worked on his weaknesses with trainer Jamie Moore and is confident he can get back on the winning trail at the Ice Arena.
"I put it down to a bit of inexperience and a lapse in concentration," said Coyle.
"I was so far ahead in the fight that I could have afforded to get on my back foot for a few rounds and not get involved. The inexperience in me saw that I had Derry hurt and that I could potentially get him out of there.
"The game plan was never to do that. I followed the instructions for nine rounds, listening to Jamie Moore, and in the tenth round the instructions went out of the window and I paid the price.
"If it had gone the distance I would have won. I think I was eight rounds up so if it had gone to points I would have been the Commonwealth champion. But lessons are blessings and in hindsight it was a blessing in disguise and I am quite glad of the outcome because I believe it has made me a better fighter.
"If I had have won I would have been on a high and wouldn't really have analysed my performance in such a way that I have after being beaten.
"I have looked at that performance and out of such a great performance there were so many things I was doing wrong. One of the main things I was doing wrong was dropping my right hand when I threw a body shot; I got knocked out with a left hook because I dropped my right hand.
Out of it
"I have drilled that in training with Jamie, we have gone over it and over it, and I comfortably believe I am out of that bad habit now.
"I am a fighter and when you get knocked down everybody wants to carry on. I managed to get up on seven and, I will be honest, I didn't know what day of the week it was.
"I thought I had fallen over and I couldn't understand why the referee was counting me. He must have looked into my eyes and known I wasn't there. I would have carried on, that fight meant a hell of a lot to me.
"I have sort of given the people who want to fight Derry Mathews next a blueprint on how to beat him. I said all along, when Curtis Woodhouse was getting ready to fight him, that Curtis can't fight on the back foot, he can only fight going forward.
"You are going to get knocked out if you are going to walk on to a shot. Jamie and I devised a game plan which would nullify Derry Mathews and it worked to a tee.
"I think I shocked a hell of a lot of people. It has raised my stock in the boxing world and it is probably why Eddie and Matchroom have given me another opportunity to fight on such a big show on Saturday."
Follow all the action from Hull online, on tablet and mobile with our interactive text commentary from 7pm on Saturday.