Richard Towers faces a crossroads fight against Lucas Browne, says trainer Dom Ingle
Trainer Dominic Ingle believes Richard Towers has the tools to take care of Lucas Browne when the pair clash in Hull.
Last Updated: 02/11/13 11:32am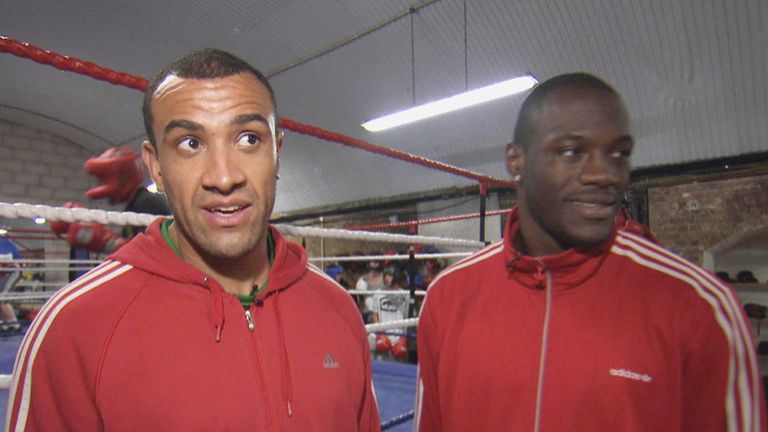 The Commonwealth heavyweight title eliminator would put the winner on the map with David Price currently holding the belt.
The fight has been postponed twice already but the time has not been lost on Towers (14-0), who has been in high demand as a sparring partner to some of the division's big names.
"They're both unbeaten with good knockout percentages so it's an interesting fight," Ingle told Sky Sports. "Richard is in the top 20 in the world and Lucas is in the top 15 - he's had more fights and slightly better opponents.
"It's a crossroads fight. You've got to start fighting kids with winning records - it's about time they fought somebody at their level and you couldn't get a closer match than this."
Experience
Towers has come a long way since embarking on a pro career in 2009, beating Frenchman Gregory Tony in his last fight for the EU title.
Since then he has sparred with Wladimir Klitschko, David Haye, Anthony Joshua, Mike Perez and Sam Sexton - amongst others.
And Ingle believes it is this experience that will give Towers the edge over his Australian foe, who like the Sheffield man is promoted by Ricky Hatton.
"Richard's last fight was a massive jump and it was a baptism of fire, he coped well with a couple of scary moments," he added. "Gregory Tony had only lost a couple of fights, Richard came through a tough test and don't think Lucas has been in one of those fights - it's been pretty much one-way traffic.
"If you'd said this time last year Richard's not going to box but he's going to spar all these guys, and going to get paid good money for doing it, I'd have said yes, let him do it.
"It's the sparring that made Johnny Nelson and Kell Brook, these sparring sessions are not tickling contests, if you can't handle it you're going to be taken out on a stretcher.
"He's faced the Klitschkos, Haye and Mike Perez, and I know Lucas can punch but he's not at that level is he.
"Really, mentally Richard should have got this kid beat. You might say sparring is different, you can stop any time you want - well, no you can't. Pride and credibility is at stake. With Klitschko there was only Richard and Deontay Wilder left standing.
"So I'm not concerned he's not been in the ring for a year and a half."
Confident
Towers' recent sparring with Olympic champion Anthony Joshua has confirmed Ingle's belief that he can be a force to be reckoned with.
"He was coming up for his first pro fight, very confident. He came storming out, but Richard was quite comfortable on the ropes, taking shots.
"You saw what happened to Paul Butlin, but Richard stood there with all the confidence in the world, blocking and moving.
"I looked at that and you could tell he had improved, he's no longer thinking about backing off, he was comfortable in the pocket, delivering his own shots. He's been in life and death situations with these guys and he's turned the corner.
"Lucas is a nice fella and he's not all talk. But Richard has the attributes, the reach and style. Lucas is strong and powerful, very determined and one way or another it's not going to last the distance.
"It's a case of who can keep the mental edge and keep to the gameplan. There will be some scary moments on both sides but I think he's going to come through it."