Carl Froch promises to catch up with George Groves after his "childish" behaviour
Carl Froch has warned George Groves that there will be nowhere to hide once the first bell sounds on November 23.
Last Updated: 12/11/13 10:23pm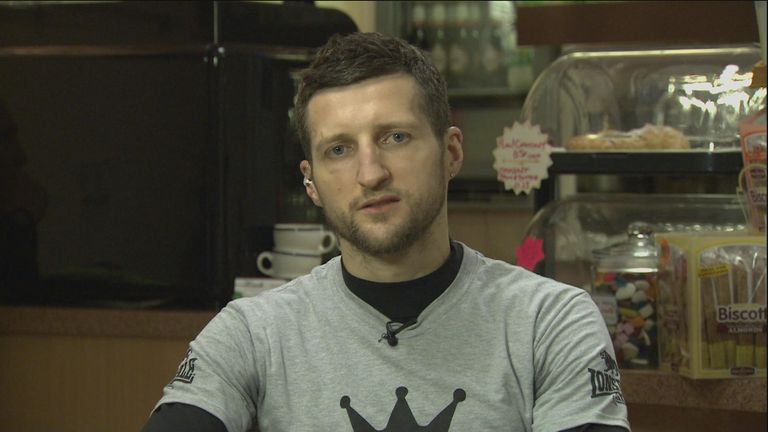 The Cobra told Sky Sports he is preparing for all possibilities when he takes on his fellow Brit - but insists that whatever tactics Groves uses will not make a difference when it comes to the outcome.
Indeed, the Nottingham fighter - who will be putting his WBA and IBF super-middleweight titles on the line live on Sky Sports Box Office - is confident that the challenger will not even go the full 12 rounds.
"He'll be working on a variety of game plans, but the plans go out the window once your opponent does something," Froch said after a bike ride as part of his training regime.
"In boxing every action causes a reaction. Whatever I do he's got to react to it. If I'm on my back foot he should theoretically come forward and bring the fight to me.
"If he's on his back foot running, and I'm putting pressure on him, he's either going to have to stand and meet me as I come, or get out of the way.
"He can't keep getting out the way. He can't keep running and running because in the boxing ring there's nowhere to hide.
"It just depends what he decides to do on the night and how the fight unfolds. One thing for sure is that he's getting beaten - he's probably going to get knocked out. When I start hitting him on his glass jaw, he will fall over."
Froch added: "I think the fans in Manchester are in for a real treat. I've never boxed there and it's a real fight city, I'm really looking forward to going there."
"I'm super fit, strong and in great shape. I'm looking forward to giving him an absolute pasting for his cheek. That's what will be happening - he will be getting knocked out."
Childish
Froch and Groves have been the best of enemies in the build-up, with the pair particularly spiky during a special edition of Ringside on Sky Sports recently.
The reigning champion has not been impressed with the behaviour of 'Saint George', branding him childish and insisting that he will be made to pay for his words on fight night.
"I just thought he was very childish, very arrogant and at times very, very rude. I wasn't impressed with George Groves at all," the 36-year-old said about their appearance on Ringside.
"He spent a lot of time around David Haye, but David Haye does what he does. He believes in what he says and David means business.
"He's also quite a classy guy, David Haye. George Groves isn't any of those things.
"I don't think he seriously believes in himself. He's trying to draw confidence by minimising my success, that's fine. He needs to try and get some confidence from somewhere.
"But it's not going to help him on Saturday November 23."
Watch Carl Froch v George Groves live on Sky Sports Box Office, November 23. Go to www.skysports.com/frochgroves for full details...