George Groves vows to expose Carl Froch's mental weakness in their world title fight
George Groves has vowed to take advantage of Carl Froch's mental weakness when they clash.
Last Updated: 13/11/13 4:53pm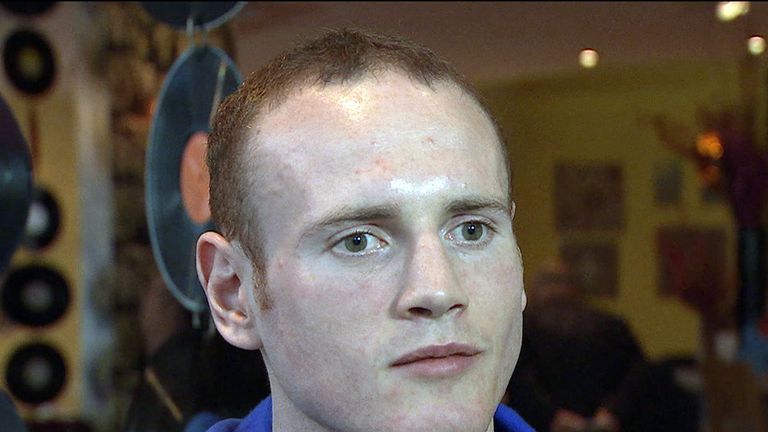 Froch will defend his WBA and IBF super-middleweight titles against Groves, live on Sky Sports Box Office, and the champion has found it hard to conceal his contempt for the challenger.
The Nottingham fighter has suggested that Groves is not good enough to share the ring with him, but his 25-year-old foe believes this is an indication that Froch is feeling the pressure.
He told skysports.com: "I've seen enough of him to know enough about him. Whenever you fight another Brit, especially a Brit that is doing well, you see them on TV interviews, you see them here an everywhere and people talk about him.
"I've got to know his personality a little bit and you have to use that to your advantage. He's shown me weaknesses in his personality as well as in his boxing ability. I'll take advantage of all of it.
"He's very insecure. He has a superiority complex which is great when you are the greatest fighter of all time, but when you're not, that will help you come unstuck.
"He has insecurities in that he cannot really comprehend that I'm worthy of fighting him. Because not only am I worthy of fighting him, I'm going to give him a good fight and I'm going to beat him.
"I'm going to beat him like he's never been beat before. At some point that will dawn on him and it will probably dawn on him too late."
Distress
Froch has suffered only two defeats in his impressive ring career, but Groves insists 'The Cobra' has shown clear distress signals when a fight turns against him.
He feels Froch cannot adapt in times of trouble and will only prevail if an opponent is drawn into a dogfight.
"His mental toughness isn't there. You've heard it before that he falls apart before fights in the changing room and even when you watch him box, there's times when he looks hopeless. He's looking to his corner and all he can do is wade in.
"If the fighter gives it to him then he's got it, but there have been many times where he hasn't won a fight, someone else has lost a fight."
Groves does accept that Froch will supply the sternest test of his unbeaten career, but is confident he will not make the same mistakes as previous foes.
"He's a tough man and he will keep coming. He's ignorant in that he doesn't know when he's been beat. He's been in fights before when he's got no chance of winning, but he's found a way. You've got to respect that.
"But as I say, I feel the opponents he's boxed have thrown it away rather than he's won."