Andre Ward believes George Groves faces an acid test against Carl Froch
George Groves is facing an acid test against Carl Froch, according to the Cobra's American conqueror Andre Ward.
Last Updated: 15/11/13 10:27am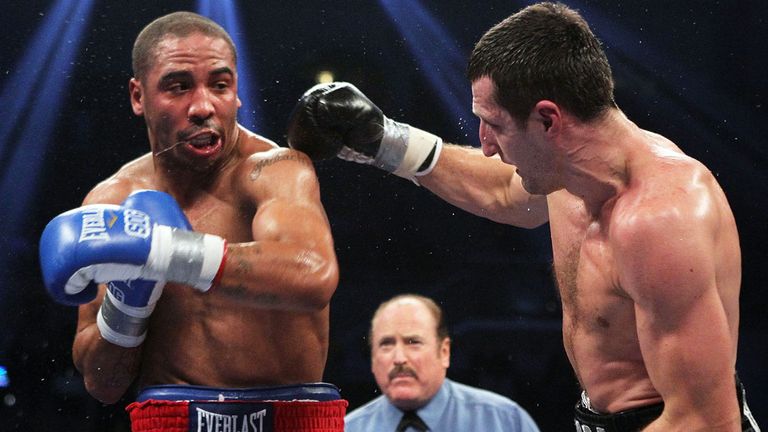 The American has seen Froch's strengths and weaknesses first-hand, having beaten the British fighter on points in the Super Six final in 2011.
Ward outwitted Froch with his slick skills, but still respects his former foe, who defends his WBA and IBF super-middleweight titles against Groves on November 23, live on Sky Sports Box Office.
Groves is unbeaten in 19 fights, but steps up to world title level for the first time and Ward believes he is facing an acid test against Froch.
"It's tough to say. I don't know much about Groves, I've only seen him fight one time," Ward told Sky Sports News.
"He's young, he looks strong and you know he's obviously confident going into this fight. He's got a shot. He's a challenger.
"This is his opportunity, but at the same time he's fighting a hungry champion in Froch and it's not going to be easy. You're going to see what George Groves is made of."
Qualities
Froch has earned a reputation as a warrior following some gruelling battles, but Ward insists this is due to a reckless disregard for his defence.
Ward feels he proved his own battling qualities during his 12 round triumph over 'The Cobra.'
He said: "We're all tough. I think he gets that tough tag because he gets hit a lot, so everybody wants to make him out to be this ironman, who is invincible.
"Everybody is tough. If he's tough and I'm the guy that beat him, then I got to be tough too."
The Oakland man is considered one of the top fighters in the sport and he returns to the ring against fellow unbeaten fighter Edwin Rodriguez, this Saturday.
The winner of Froch-Groves could be a future foe for Ward, but he is refusing to look past his next opponent.
"I'm focused on this fight and we're going to sit down after this fight and figure out what's next," said Ward. "When you fight at this level, it's hard to look two or three fights ahead.
"It's all about Saturday night. For the last three or four months, that's all we have talked about, that's all we have trained for. I'm eating, sleeping and drinking this guy. It's kind of hard to talk about anything after that."