Scott Cardle is hoping for a step up in opposition after his fight in Manchester
Scott Cardle is looking to make up for lost time in 2014 after he closes this year by fighting on the Manchester show.
Last Updated: 16/11/13 11:29am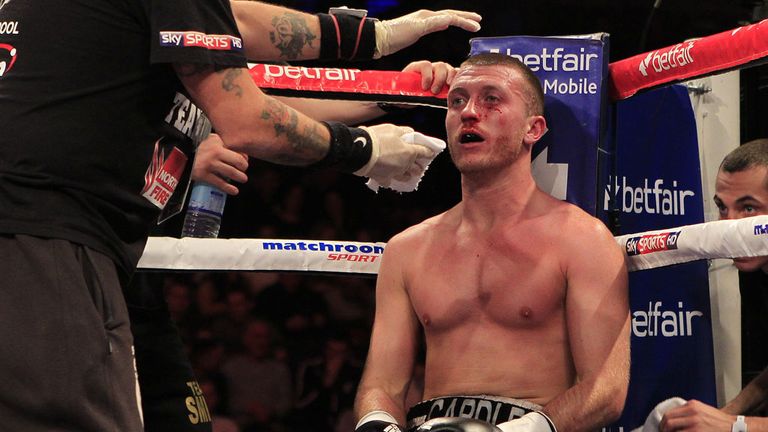 Cardle was kept busy during his first year a professional but a bad cut sustained in his victory over Maxi Hughes in April meant he was forced to take the summer off.
The Lytham lightweight dusted off the rustiness with a routine points win over Gary Fox in Glasgow in September, and is already looking to step up and mix it with some of the bigger names in the division.
"This next fight was meant to be against a good name, but my plan now is just to put on a good performance, take care of business and start the new year with a bang," he told Sky Sports.
"I want to start mixing it with some of the bigger names.
"I've stepped up, don't get me wrong, but not in the way I wanted to. I want to make a bit of noise now, mixing it with the likes of Derry Mathews and Tommy Coyle.
"They won't be avoiding me, and if I can get a fight with any of them I'll be happy. It's up to Eddie (Hearn) and as long as he keeps getting good reviews from Joe then I'll be ready.
"I'm already mixing it with Anthony Crolla, Stephen Smith, even Liam Smith in the gym, but I just need to start making a name for myself.
"Those type of guys have already got a name and they would be stepping down a level to fight me, but I want to fight them."
Cardle, a highly rated amateur who was a member of the Team GB squad, is already 12-0 in the paid ranks, and has no intention of losing anytime soon.
"It's good to be unbeaten, but I understand what's on the line and I'm confident that the '0' is going to stay there - it's just down to preparation, and if I lose it then it's down to me," he added.