George Groves stunned to hear David Haye could be forced to retire due to injury
George Groves was shocked to hear that David Haye could retire, but is still hopeful he will be able to return.
Last Updated: 18/11/13 2:56pm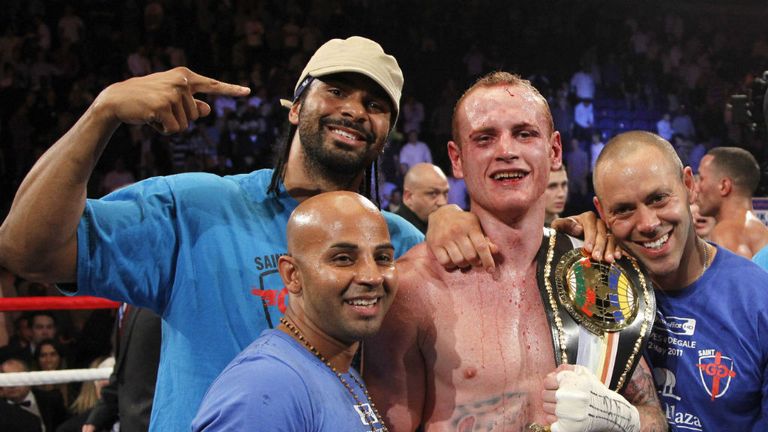 Haye announced on Sunday evening that he has been advised to call time on his boxing career by doctors after undergoing reconstructive shoulder surgery.
Groves, who used to train and spar with Haye working under coach Adam Booth, is hoping that prognosis is rather premature and believes the 33-year-old could yet make a return.
"Shocking, I'm still stunned," he told Sky Sports. "I don't think the reality of it has sunk in yet. Obviously if he's had a five-hour operation it's a major operation and it will keep him out of the ring for some time.
"But I hope it isn't career-threatening, I wish him the best.
"There's no need for him to make a rash decision right now. Obviously he'll be grieving, he's got surgery which is not nice and he's been training hard for a fight off the back of another injury.
"So close to the fight he's invested a lot time, energy, training and money no doubt, and the same for Tyson Fury.
"But I wouldn't say he needs to rush out and make a decision , he must feel like the world is against him when it comes to injuries right now, but hopefully it's not too bad and with some good solid rehab he'll be back."
Looking back on the time he spent in training camps with Haye, Groves admits the charismatic Londoner was a big influence on his own career.
"He was a great guy to train with; he could be lazy at times, I think he'll agree with that, and it was up to me to drag him along," he added.
"But he had a confident aura around him, a self-belief that rubbed off on everyone else around him and that was one of the things that I enjoyed most.
"I like training in a gym of winners and people who believe they are the best and I think we complemented each other well.
"I do wish him the best and hope this isn't the end for David Haye."
Hayemaker Boxing released a statement which read: "David underwent five hours of surgery in Germany on Thursday morning to reconstruct his right shoulder, and has since been told to seriously consider ending his glittering 11-year professional boxing career.
"The operation was to the right subscapularis and bicep tendon attachments, both of which were ruptured."
Haye added: "I genuinely believed the shoulder injury wasn't that bad.
"But the doctor sent me for a detailed MRI scan and, within 24 hours, I was told the full extent of the damage. Twenty-four hours after that, I was in the operating theatre.
"It's a crushing blow for me. I had big plans for next year and the ultimate goal was to win back the world heavyweight title, something my amazing fans deserve."
But Haye has received little sympathy from planned opponent Fury who, after an initial rant on Twitter, issued a statement on his Team Fury website which read: "I'm absolutely furious but in all honesty this is exactly what I expected.
"Everyone knows I was very suspicious when he pulled out the first time and this confirms to me that he's always been afraid of me and never wanted this fight."
Watch Carl Froch v George Groves live on Sky Sports Box Office, November 23. Go to www.skysports.com/frochgroves for full details...