Carl Froch expects David Haye to retire after shoulder surgery
Carl Froch expects David Haye to retire from boxing following reconstructive shoulder surgery.
Last Updated: 18/11/13 5:59pm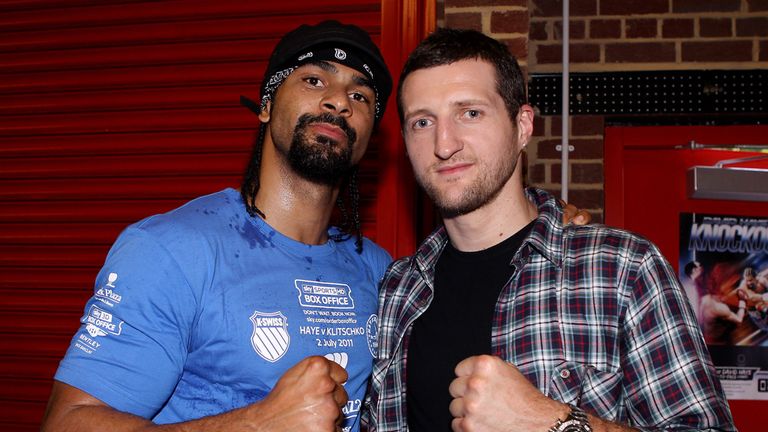 Haye has been forced out of a domestic showdown with Tyson Fury for a second time and advised to call time on his professional career.
Froch, who is in the final week of training for domestic grudge match with George Groves on Saturday, believes Haye can hang up his gloves with pride.
"I spoke to David Haye yesterday," Froch told Sky Sports News. "David's had a fantastic career, it's been an unbelievable career.
"David Haye is not a heavyweight, not a natural heavyweight and look at what he's achieved; undisputed cruiserweight champion, heavyweight champion of the world. He fought the best of the best, he fell short on points against Klitchsko, but I think he would have come back and done the job on Tyson Fury.
"But it's just one of those operations which take's ages to heal, months and months of rehabilitation.
"He's genuinely gutted, he's genuinely upset because he wanted to come back and leave his mark, make his legacy in the boxing ring and go out on a high and he's not been given the opportunity to do that.
"So my heart goes out to David Haye and his family but mainly David Haye because I know what this sport means to him, but unfortunately that's boxing, that's the hurt game. He had a cut one week before the fight and now he's injured his shoulder.
"He's got a bad muscle-skeletal injury and it's not going to be ready for the fight in February and it probably won't be ready again, so I think he's probably going to hang up his gloves and retire.
"But what a fantastic career David Haye's had and good luck to him and his family moving forward.
Legacy
"He's left his legacy because he was undisputed cruiserweight champion, he stepped up to heavyweight, he fought everyone who was about at heavyweight and beat most of them.
"He lost to Klitschko, who was a foot taller and a few stone heavier than him, and he gave a good account of himself.
"He could have tactically done things a little different but he took that fight with an injury. I know a lot of people like to rub it in about his bad toe but if you've got an injury on your foot or toe, it's really, really, sore and painful, and if you can't push off... I'm not making any excuses for him.
"Klitschko was too big, too strong and too awkward for him, and too negative to be honest for David Haye to do anything with because of the size difference.
"But David Haye has left a mark on boxing, he's left a positive mark, he's been fantastic for boxing and I just think that he done himself and his family proud and the sport of boxing proud.
"Good luck to him, I hope he has a happy, happy fulfilled retirement and not to get too depressed or upset about having to retire before he wanted to. He retired before and came back out of retirement and beat Derek Chisora in a fantastic fight and now's he's been forced out through injury.
"But he's left a good, positive mark on British boxing and I've very proud of him personally as a friend of mine."
Boxing promoter Eddie Hearn, who was ringside as Froch went through an open workout in Nottingham, also expects Haye to quit the ring.
"Injury has come at a crucial time in his career and will probably spell the end," said Hearn.
"Haye was box office, an arena filler," added Hearn, "Two weight world champion, been involved in huge fights. Klitschko was his defining fight - he didn't perform. Bitter taste with the Fury withdrawal, but boxing is in a worse place without him."
Watch Carl Froch v George Groves live on Sky Sports Box Office, November 23. Go to www.skysports.com/frochgroves for full details...