George Groves believes Carl Froch's reputation will be in tatters on Saturday
George Groves says Carl Froch's reputation will be in tatters after he dishes out a defeat to the champion on Saturday.
Last Updated: 20/11/13 8:45am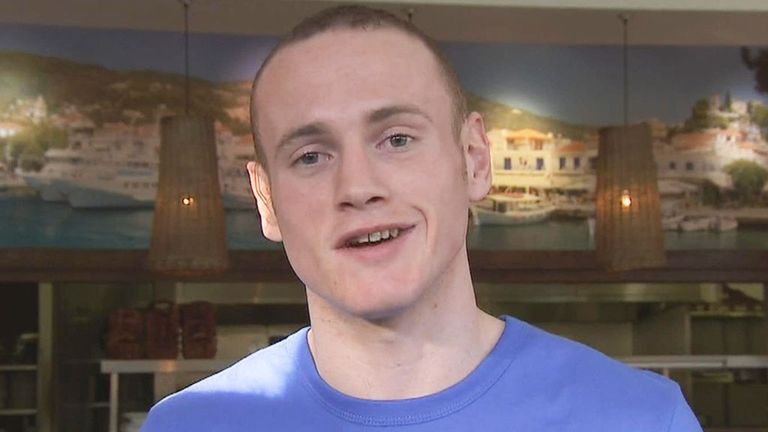 Froch is a three-time world champion and will put his WBA and IBF titles on the line against Groves in Manchester, live on Sky Sports Box Office.
The 36-year-old has faced a procession of big names in the super-middleweight division, only suffering two losses against Mikkel Kessler and Andre Ward.
But Groves insists Froch is thinking too much about his reputation in the sport and is 'petrified' about the prospect of losing to a young challenger.
'The Saint' is determined to add another blemish to his record by beating the champion in front of the British boxing fans.
"He keeps talking about this legacy. I think that's what we should concentrate on most," Groves told Sky Sports News.
"He feels that he's got this legacy, but legacies are made in history. He has to wait for his legacy. He will be remembered for his good wins and as time goes on people will forget where he has struggled against certain opposition. They will just remember the wins.
"I think what he is most petrified about and the pressure is building on him now is that come Saturday night, he's going to lose and he's going to lose to a 19 and 0 young British fighter. Not a fighter from overseas, not an American fighting in America or a Danish guy fighting in Denmark.
"He's going to have to live in the UK, knowing that a British fighter, a young pretender as he likes to call me, has come out and has beat him."
Reassurance
Froch has suggested that Groves will fall apart mentally once he steps into the ring for the biggest fight of his career.
But the 25-year-old insists he is relishing his first world title bout and has questioned whether doubts will start creeping into Froch's mind as the fight unfolds.
"The truth of the matter is, it is a lonely place in the ring sometimes and I'm happy being on my own," he said.
"I'm content with it. I can climb through the ropes, everyone else climb out, leave me to do the business and the problem for Carl Froch is, he'll be on his own as well.
"We've seen him before when he's stood next to me doing interviews and he gets lost, turns to his promoter Eddie (Hearn) and says: Eddie what's going on? He needs that comfort, that reassurance, needs people to pat him on the back.
"He needs to sit down at the end of each round and be coached through. Not getting the right instructions of what he needs to do. He needs to be told that he's doing alright. Come on Carl, keep going Carl, get back to your jab Carl. He won't be hearing get back to your jab Carl, he will be hearing where is your jab Carl? He will not land his jab once."
Froch has predicted that Groves could cut short his ring career if he suffers a crushing defeat, but he believes it will be the Nottingham man who is forced to consider retirement.
"It depends if he can recover from that emotionally and mentally, because he's already shown in my opinion a fragile state in this respect," said 'The Saint'.
"He's already put pressure on himself, knowing that a loss to me would be catastrophic. Physically maybe he can come back at 36, maybe not, but mentally and emotionally I can't see it.
"I'm not out to retire him, I'm just out to knock him out."