George Groves vows to show spiteful side against Carl Froch
George Groves has vowed to show his 'spiteful' side in Saturday's world title clash against Carl Froch.
Last Updated: 21/11/13 9:02am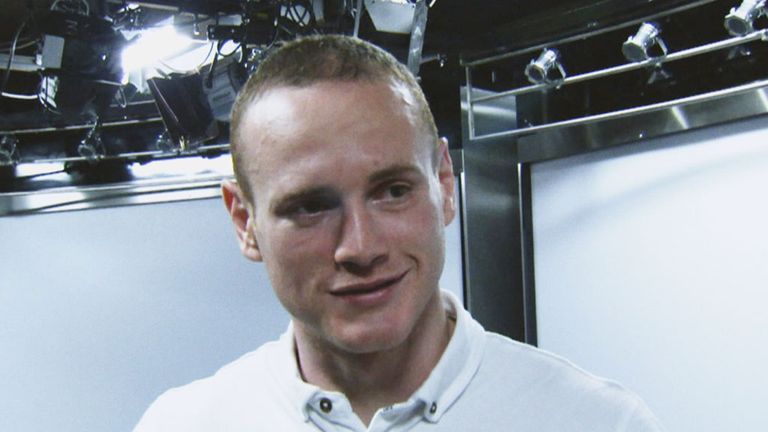 Groves is just days away from his world title clash against WBA and IBF super-middleweight champion Froch this Saturday, live on Sky Sports Box Office.
There has been plenty of ill-feeling in the build-up to the fight and Groves appeared to rile Froch with a verbal attack on a recent Ringside Special.
The 25-year-old insists he has a softer side away from the sport, but assumes a nasty persona to get himself mentally ready for battle.
Speaking on George Groves Behind The Ropes, he said: "When you're fighting you can't be your real self and you shouldn't be your real self for many reasons.
"But when I get in the ring I am a spiteful person and I want to hurt the person who is in front of me.
"Day to day life I am not a spiteful person, honest, not all the time. If you are that angry, spiteful person day in day out you will use it all up and then one day you will have no spite left and you will just want to hug and kiss everyone and again as a fighter that won't work.
"Some people don't have any spite at all. They are just nice guys, they are nice guys outside of the ring and they are nice guys inside of the ring as well and again that won't suit you.
"You always have that serial killer mentality where you switch it on and off. It doesn't matter what sort of problems you have outside of the gym, you could have got stuck in a four-hour traffic jam, had a flat tyre, had someone swearing abuse at you and then as soon as you walk through the gym door, blank emotionless, get on with your session because it's your job and there is no room for outside distractions."
Froch described how he floored his opponent in sparring during his episode of Behind The Ropes and Groves did not dispute this claim.
But the challenger insists he came out on top in another session a few days later.
"I don't keep a diary. I thought they were for fourteen year-old girls to write about boyfriends and homework," he said.
Lazy
"We did spar, we went out to Sheffield one week and he caught me with a right hand over the top. I was being lazy on the ropes, my knee touched down. I stood straight back up, carried on the round, carried on the rest of the spar.
"Two days later I came to his gym in Nottingham, sparred him and took him apart. I got out of the ring and he sat there staring at his trainer bemused. I think he was looking for a bit of confidence sparring and he didn't get it that day and then he went on and lost to Kessler, his first loss.
"I never read too much into sparring, firstly because I don't spar that great.
"If I'd dropped Carl Froch I never would have mentioned it. I wouldn't have got up and said yeah let me send a text to my mum, let me write it in my diary at home. Because what does it matter in sparring? it means nothing you know, I'm only going half speed most of the time, if he does rely on that sparring he is in trouble.
"I'm a little better now and I'll be a little bit better on the night as well."
Watch Carl Froch v George Groves live on Sky Sports Box Office, November 23. Go to www.skysports.com/frochgroves for full details...