Carl Froch and George Groves pulled apart at heated weigh-in
Carl Froch and George Groves were in peak condition as they weighed in for Saturday night's world title fight.
Last Updated: 23/11/13 11:26am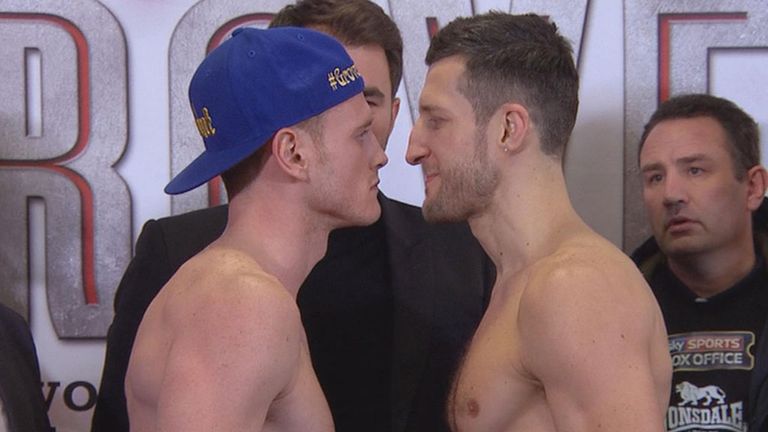 Groves has engaged the champion in a heated war of words before their fight, live on Sky Sports Box Office, and Froch whispered in his ear before the bitter rivals were pulled apart.
Froch weighed in at 11st 13lb, below the 12st limit, while Groves was over a pound inside the super-middleweight mark at 11st 12lbs.
The Nottingham man insisted that Groves looked 'petrified' when both fighters went head-to-head for the last time before they step into the ring in Manchester.
When asked what he said on the podium, Froch said: "I was just letting him know he is in deep water. The time is now. David Haye will say the same, it's just sort of bringing reality.
"In all honesty, I didn't say a great deal that was significant because he was just silent and he looked petrified. Yesterday he looked worried, today he looks really, really worried.
"He looks like a really worried man that realises the magnitude of the event and it will be dawning on him. I don't think he's sleeping and he shouldn't be because he's in serious trouble."
Froch is putting his WBA and IBF titles on the line and is refusing to even think about relinquishing his belts to his outspoken challenger.
"Nothing could be any worse than to l to this guy," he said. "I cannot even say the word, but it would be absolutely devastating.
"Nothing would be worse. What I have achieved in boxing and what I have done and how far I have come. To fight Lucian Bute unbeaten and to beat Mikkel Kessler in the rematch, to now lose to this chump. It couldn't be any worse."
Groves was jeered as he stepped onto the stage and the 25-year-old for once remained silent as Froch issued a pre-fight warning.
"He didn't say anything that he hasn't said before. Same old stuff," said Groves.
"I just looked at him. I've said enough that needs to be said now. He can choose to listen or not.
"I gave him the game-plan, how much of a gentleman do I need to be? He's got two days to adapt, now he's got one day left. We'll see what he comes up with."
Groves steps up to world title level for the first times and faces a hot favourite who has beaten a string of big names in the division.
But Groves believes his underdog tag has spurred him on to pull off a stunning upset win.
"Someone wouldn't be able to cope without everyone on your side, saying you're going to win," he said. "It's almost nice in many ways to have this. Everyone says you can't do this.
"It makes you double check yourself more so you're in the gym going hold on, I'm doing this, I'm doing that. This will work on the night.
"I'm more than confident that I've got the tools to beat Carl Froch. I can't wait to get in there and show him."
Scott Quigg defends his WBA super-bantamweight titles against Argentine Diego Oscar Silva on the undercard.
The Bury fighter and his challenger were both inside the limit at 8st 9lbs.
Watch Carl Froch v George Groves live on Sky Sports Box Office, November 23. Go to www.skysports.com/frochgroves for full details.