George Groves disputes controversial stoppage defeat by Carl Froch
George Groves was bitterly disappointed after his controversial stoppage defeat by Carl Froch and called for a rematch.
Last Updated: 24/11/13 7:58am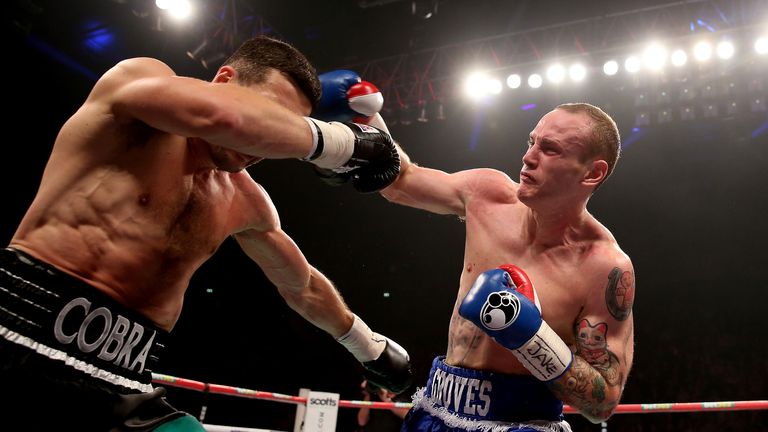 Groves stepped up to world title level for the first time and announced his arrival by flooring Froch in a dramatic first round.
Froch was hurt on a number of occasions as he struggled to cope with his younger opponent's speed, but he saved his WBA and IBF super-middleweight titles in a contentious ninth round.
A barrage of punches left Groves on unsteady legs, but referee Howard Foster stepped in far too soon to stop the fight, and the 25-year-old challenger disputed this hasty decision.
"He caught me with a good shot, but that should never have been a stoppage," Groves told Sky Sports Box Office.
"If you look, probably near enough every round beforehand I had Carl buzzed and buzzed much heavier, and because he's got this warrior image I think he got the benefit of the doubt a lot of the time. Because, for some reason I've got this chinny image, it was stopped prematurely in my opinion."
There was plenty of bad blood in the build-up, but the two rivals shared a mutual respect after the fight.
Groves had courted controversy with his brash behaviour, but he was cheered by the very same fans who had jeered his entrance.
'Immense respect'
"I would just like to say I've got immense respect for Carl Froch. I have done in the whole build-up. I think now he would respect me a little bit more after my performance tonight.
"I tried to shake his hand right at the end and he wasn't interested. He cooled down for a little bit and then he came and spoke and said some kind words.
"I had to come in and upset Carl Froch, tell him the truth, and I told you what was going to happen in the first three rounds. We can watch it back, we know what happened and now I'm getting cheered. I'm getting cheered in front of all these amazing fans. I'm so proud to come in and give this display and for all these people to believe in me.
"I know I'm going to be a great fighter and I feel I had it taken away from me tonight unjustly. I'll be back. I'll be back fitter and stronger. Eddie (Hearn) needs to make this happen. I'm just gutted, I'm truly gutted."
Promoter Eddie Hearn paid tribute to both fighters after a thrilling battle and suggested that Groves would get another shot at Froch.
"George, he was sensational, you know I think he shocked everyone by his performance," said Hearn.
"But for Carl, you are talking about a man who dug so deep. He looked beaten in the first round.
"He went down. I've never seen him down like that before. George Groves did that. For these two guys to go at it like they did. The rematch is the one that makes sense. I think everyone would love to see it."
You can book Froch v Groves repeats via your Sky remote or online. Go to www.skysports.com/frochgroves