Carl Froch backs referee's decision to stop his title fight with George Groves
Carl Froch believes referee Howard Foster was right to stop his super-middleweight world title fight with George Groves.
Last Updated: 26/11/13 4:37pm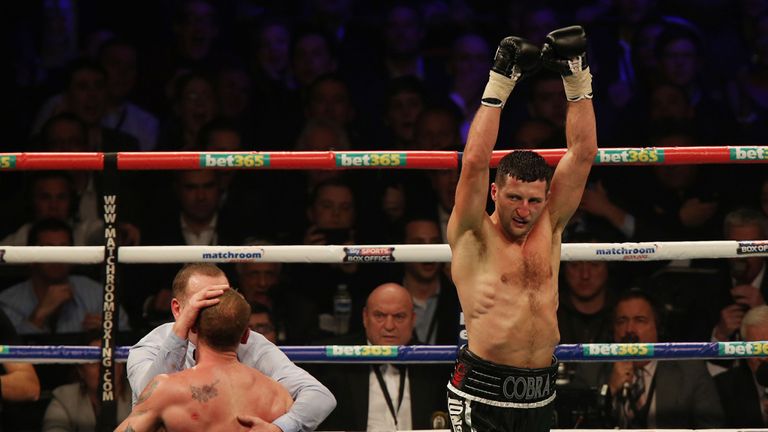 The 36-year-old was controversially able to keep hold of his belts after the ring official stepped in during round nine of a thrilling contest.
Groves had Froch floored and badly shaken in round one and dominated the fight early on, but later started to flag and was deemed unable to continue after being hurt and backed up against the ropes.
As the London fighter seemed to be defending himself and even throwing back many labelled the stoppage as premature, but Froch said Groves could have been badly injured if the fight was allowed to continue.
"Howard is a very experienced referee. George had his head low and I had a free shot and the referee had a split-second decision to make," Froch said.
"It was dangerous and he had to put the safety of the fighter first. Let's have a rematch and sort it out."
Respect
A war of words between the two fighters dominated the build up to the bout, with Froch accusing his opponent of a lack of respect.
Although he maintained that Groves should have conducted himself differently prior to fight night, Froch did praise his in-ring abilities.
He added: "As a fighter I have never had disrespect for him. As a person he was antagonistic towards me and was being disrespectful and rude.
"I'm a man of my word. He's a good fighter and I've seen what he can do. He's earned more respect from me in the fight.
"We had a chat, he gave me an answer and I respect him for that. I've got a little more respect for him as a fighter and a little more respect as a person.
"He got booed into the arena and he's getting cheered out of it. But let's not forget who won here. It was a very educated decision.
"I get stuck in and that's why everybody loves me. I gave everyone entertainment and I can't be held responsible for what the referee did."
You can book Froch v Groves repeats via your Sky remote or online. Go to www.skysports.com/frochgroves