Tony Bellew learned from world title defeat by Nathan Cleverly
Tony Bellew has learned from Nathan Cleverly defeat as he prepares for second world title shot against Adonis Stevenson.
Last Updated: 28/11/13 11:23pm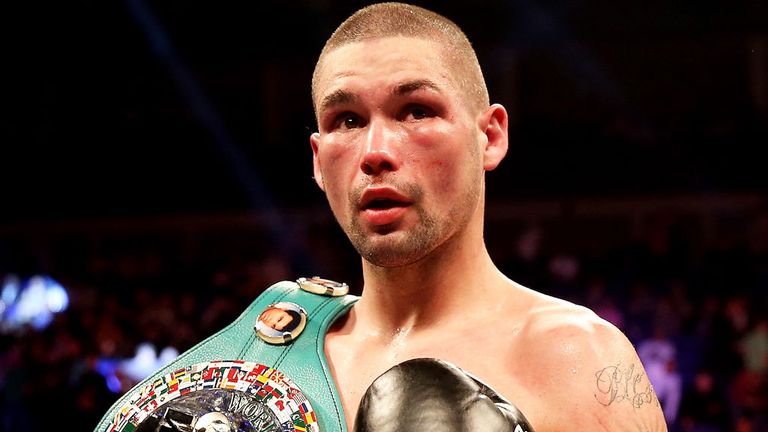 Bellew challenged Cleverly for the WBO light-heavyweight belt in October 2011 and suffered a points defeat after a gruelling battle with the Welshman.
The Liverpudlian is determined to seize his second chance of world title glory when he faces WBC champion Adonis Stevenson in Quebec City on Saturday, live on Sky Sports.
Bellew admits his reckless approach in the Cleverly fight led to him suffering a broken hand, but will not repeat the same mistakes against Stevenson.
Reflecting on his solitary loss, Cleverly told the Liverpool Echo: "It wouldn't have been close or up for debate if I knew then what I know now," said Bellew.
"I would have stopped Cleverly because I would not have been trying to take his head off with every shot.
"It is all I wanted to do that night and that is how I ended up breaking my hand, through pure anger.
"He was close to going down in the second round and I chose to punch him on the back of the head and that's how my hand shattered. You learn so much.
"But it is the best thing that has ever happened to me. Whereas I might class myself as undefeated the most important thing is that I've learnt from the setbacks I've had."
Earned
Bellew was handed the fight with Cleverly following a war of words, but he has been forced to work hard for a showdown with Stevenson.
The 30-year-old has beaten a string of tough opponents and believes he is well prepared for his Canadian opponent.
"I got that shot because I opened my mouth at a press conference. It's different now," said Bellew.
"I never went through any contenders then. I'd just won a British title and there were no international 12 round fights.
"I was given the shot because they thought I was going to get banged over. They never believed that I could beat Cleverly or that he would even be in a hard fight. I pushed him to the wire and it could've gone either way.
"But since then I've beaten a former European champion in Danny McIntosh - and beat him better than anyone else before - and then I went in with a four-time world title challenger in Edison Miranda.
"He fought Andre Ward two fights before me and Ward couldn't stop him. I stopped him and still got a ton of criticism for it. Andre Ward is the kingpin but he couldn't stop Miranda.
"I deserve to be champion on November 30.
"Luck has played no part in my path. My path has been about hard work, dedication and refusing to back down. It has been a long road and I have learnt from every obstacle."