Amir Khan confident about facing Floyd Mayweather next year
Sky Sports pundit Glenn McCrory expects Amir Khan to be named as the next opponent for Floyd Mayweather.
Last Updated: 26/11/13 10:34pm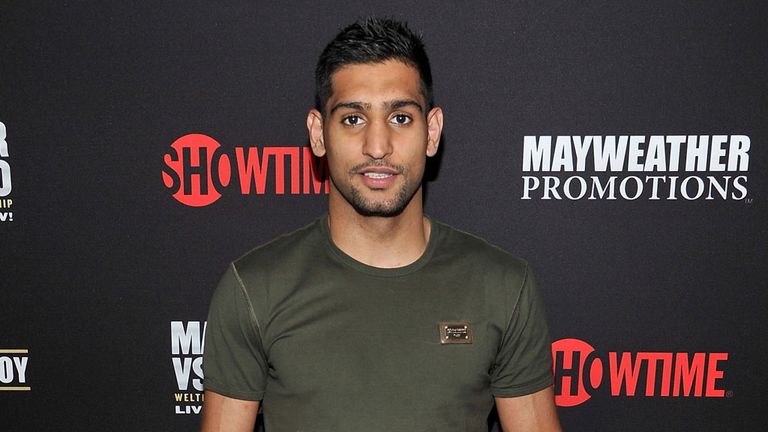 Reports suggest Khan has been selected as the next opponent for Mayweather, with Las Vegas the chosen venue, but neither fighter has signed a contract.
Khan joined McCrory in the studio last weekend for Carl Froch's controversial world title win over George Groves and did little to dampen claims that he will battle boxing's biggest name.
Manny Pacquiao's points win over Brandon Rios on Saturday led to the Filipino being linked again with Mayweather, but McCrory feels Khan is at the front of the queue.
McCrory told skysports.com: "His victory on Saturday night inevitably brought up talk of a Pacquiao versus Floyd Mayweather fight, but I was sat next to Amir Khan for the Carl Froch-George Groves match and he seemed quietly confident that he was going to get Mayweather next.
"It's not official and he was keen to stress that no deal had been done, but I've got a feeling now that's the way things are headed.
"It could be that that's what Amir's put his career on hold for. He didn't take that fight with Devon Alexander and presumably the reason why he chose to miss out on that big pay day is because he thinks the possibility of Mayweather is pretty solid."
Speed
Khan's punch resistance has been questioned after he was floored by Julio Diaz and halted by Danny Garcia, but McCrory does not think Mayweather is a massive puncher.
Age does not appear to be creeping up on the 36-year-old American, who dished out a one-sided points defeat to Saul Alvarez in September.
But McCrory feels Khan's blistering handspeed could pose a problem for Mayweather.
"Khan is the one man who could actually worry Mayweather because he's the one man who's faster than Mayweather," he said.
"Mayweather isn't the kind of hunt-you-down lethal finisher either, so Khan definitely has a chance. It's very hard to say he'd beat him, but he will give him problems because he's got speed.
"The other thing is that Khan's usual weakness of getting hit won't be as much of a problem because Mayweather is more of a counter-puncher.
"Mayweather showed against Saul Alvarez that he can be tough and can push big men back, but he couldn't finish him. That would give Khan hope that he could be the busier man and maybe nick a decision. He's got the style to do it."
Read Glenn McCrory's blog on Amir Khan, Manny Pacquiao and more here