Boxing: Don Charles fears for Carl Froch after George Groves fight
Don Charles thinks we might have seen the last of Carl Froch after claiming he was "schooled" by George Groves.
By Dev Trehan
Last Updated: 27/11/13 11:14am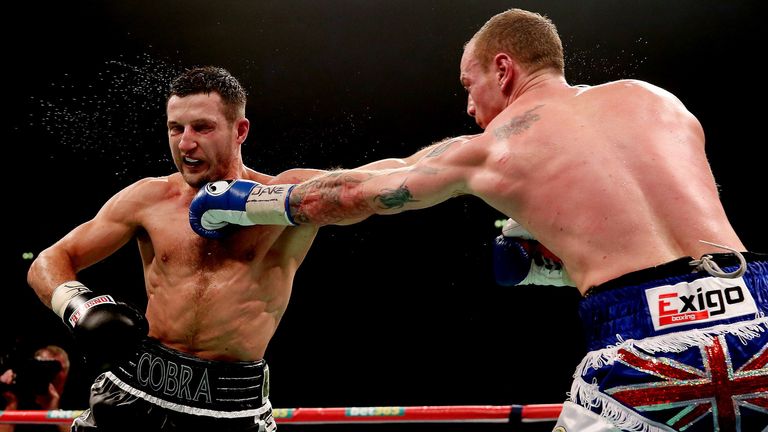 Froch retained his titles after referee Howard Foster stopped Groves in the ninth round although the Hammersmith fighter was ahead on all three of the judges' scorecards.
And Charles, who is readying Chisora for his European heavyweight title defence against Ondrej Pala this weekend, believes the 36-year-old Froch will find it difficult to return from his bruising encounter with Groves.
"It is difficult to do what George did to Carl Froch," Charles told Sky Sports.
"Carl is very tough. He is a throwback in the sense they don't make fighters like him anymore, but it's not all about being tough - the young man schooled him.
"Carl needs to go back to the drawing board but will he ever be the same after this fight?
"I believe he will age rapidly after this fight - overnight after such a battle."
Charles said a valiant and highly impressive performance from Groves came as no surprise to him, praising the 25-year-old Groves as one of the most improved fighters in the country.
"Apart from the end - in terms of how the fight panned out I wasn't surprised," the Finchley-based trainer said. "I've been monitoring George Groves' progress and he is one of the most improved fighters in Britain. His style as a fighter has evolved.
"He's not my fighter, I have no reason to be biased, I say it the way I see and George Groves systematically dissected Carl Froch. He systematically beat him up.
Intelligent
"I'm not one for believing hype, I look at what they have got, and I believe George Groves is the better schooled, more intelligent fighter.
"I knew Froch was going to underestimate him. He was supposed to be the puncher but who was the puncher on the night - Groves."
Charles hailed the fight as a modern-day classic, but said he doubted a rematch will happen, as he believes Froch is too old to make changes he feels are necessary for him to beat Groves if the pair were to fight again.
"For the boxing purist the fight was a classic," he said. "The performance from both boxers ranks with the Eubank, Watson and Benn era of fights."
"I would love to see a rematch and I'm sure the whole nation would love to see a rematch but will it happen? I don't think so because will Froch do anything different next time around?
"Throughout his career he's relied in having a tough chin but I don't believe he has the ability to change his style to be ready for a rematch in the next four to six months.
"It's too late for him to adapt. It's too late for him to develop a defence which he has never ever had in his career."