Darren Barker and Felix Sturm make weight for Saturday's world title fight
Darren Barker and Felix Sturm looked in peak condition as they made weight for Saturday's world title clash.
Last Updated: 07/12/13 6:51pm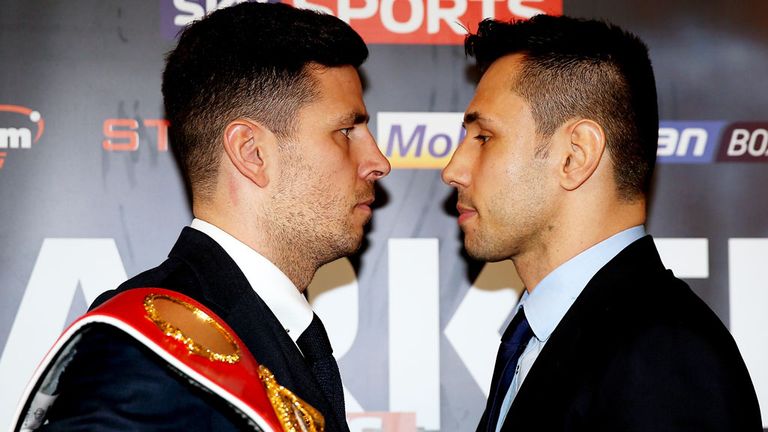 Barker is defending his IBF middleweight belt for the first time and there were loud cheers from his large travelling support as he tipped the scales at 11st 5lbs.
Sturm was 10 ounces under the 11st 6lbs limit and the two fighters displayed little emotion during the customary face-off before Barker raised a fist to his vocal fans.
The Barnet man is targeting a lengthy reign as champion and hopes to start his spell in style against Sturm.
"When preparation has been perfect you look forward to getting in there and that's where I am right now - I just can't wait to get in there and do my thing," said Barker
"I've got a small and close team around me and that's how I like it. I've had a good week here, it's been enjoyable, we've been treated really well and the German fans have been great.
"I've got a lot of fans out here and they were brilliant in the weigh-in, there's even more coming tomorrow and it's going to be a great atmosphere.
"The confidence and belief from winning a world title is unreal - I've always believed I'm world class, but winning that world title I know that I am world class because I've proved it. I am as hungry as I've ever been, I'm proud to be a world champion and I want to have a long reign.
"Coming out to Germany to fight one of their great champions is a big statement. I've won the title abroad and I'm defending it abroad - it's a sign of my belief that I will beat him and move towards securing a legacy in this great division."
Former undefeated world champion Joe Calzaghe has flown out to Germany for the bout and he joined both fighters on the stage.
Speaking earlier in the week, the former WBO champion voiced his backing for Barker.
"It's a tough fight for Darren, but I think he's in the ascendancy," Calzaghe told Ringside.
"I think after his last win against Geale, which was a fantastic win, with the confidence of that win he's not going to let that go.
"Sturm has been a great champion over the years. Obviously coming to fight in his own country, he's up against it, but I really fancy Darren to win this fight.
"I think if anything, Sturm has been champion long enough. His time is over and Darren's going to improve from his last fight and he's got the tools to win this fight."