Ex Crystal Palace and Norwich striker turned boxer Leon McKenzie stays unbeaten
Leon McKenzie's draw with Darren McKenna means he is now unbeaten after three contests as a professional boxer
By Dev Trehan
Last Updated: 08/12/13 6:42pm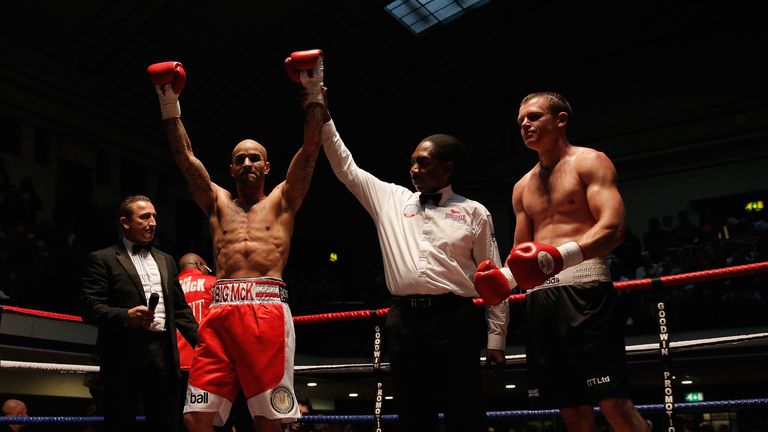 Roared on by a packed York Hall crowd including Kieron Dyer and Michael Duberry, the barnstorming four-round contest ended 38-38 as both fighters stood toe-to-toe in the centre of the York Hall ring exchanging heavy blows from first bell to last.
There had been some needle going into the contest after McKenna called McKenzie out after his pro debut in July, but the former Norwich striker said he was pleased to earn his opponent's respect come the end of the bout.
"It was a very entertaining fight," Mckenzie told skysports.com. "There were a few words said by Daz after my debut but the lovely thing is that we came together after the fight and he told me how much respect he has for me now and I feel exactly the same.
"I thought maybe I'd nicked it after the last round but I can't complain with a draw. He was an experienced fighter and I've got to go away from this and take positives - I'm still unbeaten."
He added: "Ideally this should have been six, seven fights down the line so it says it a lot about me taking this as my third fight and I thought I gave a good account of myself.
"I have been training hard and I got drawn into a fight which was probably more ideal for him but I stood on my feet and I gave as good as I got.
"I think you can see I've got boxing in my blood - not everyone can do that and many others would have been stopped after taking those kind of shots.
"It's nice to know I can take a shot, but I don't want to be taking too many like that.
"I showed I've got heart and if I have to fight I will fight, but my journey continues and in the future I'm hoping to get some bigger fights."
Roget loses
Former Southend and Brentford defender Leo Roget slipped to a narrow 39-38 points defeat to Mitch Mitchell on the same bill, after embarking upon a new chapter in his career as a boxer.
The Essex footballer-turned-cruiserweight made his debut against Lincoln journeyman Mitchell, who went the distance with undefeated British title hopeful Andreas Evangelou at the Copper Box Arena last weekend.
Roget started briskly using his physical prowess and natural reach advantage to control the opening round, but Mitchell responded well catching Roget freely during the remainder of the four-round contest to clinch a tight decision.
Roget was extremely disappointed after the bout, insisting he knew he had not done himself justice.
"Right now I'm just so upset with myself and I can't even give a valid reason why it has gone so wrong," he said.
"I'm devastated and I'm embarrassed. I need to reassess what I have done and put things straight because there is no way I can go out with a performance like that."