Adrien Broner believes he can be the first to stop Marcos Maidana on Saturday
Adrien Broner believes he is going to become the first man to stop Marcos Maidana when they clash on Saturday night.
Last Updated: 14/12/13 3:46pm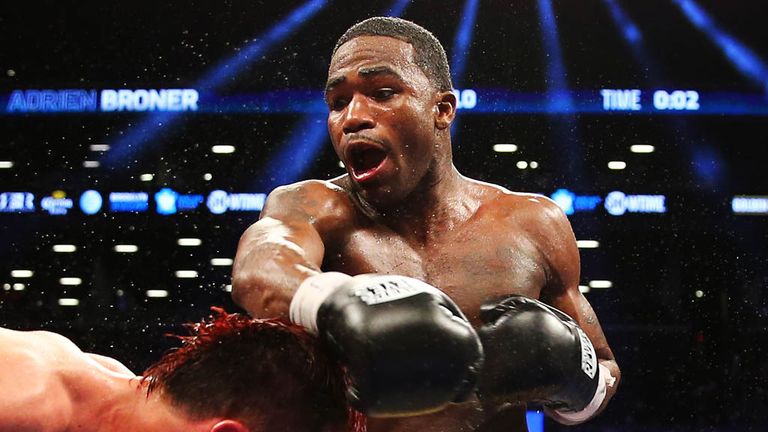 Broner is still finding his feet at welterweight after becoming a three-weight champion when beating Paulie Malignaggi earlier this year - his first fight at 147lb after making the huge leap from lightweight.
In Maidana he comes up against a tough Argentinian who has lost on points three times in a 37-fight career, but is dangerous with 31 of his wins 34 wins coming via stoppage.
Nevertheless, Broner believes he can beat Maidana any way he pleases, including by early knockout.
"If he makes a mistake and I have a chance to get him out of there I'm going to get him out of there," he said. "It's going to be a hell of a fight.
"I don't go for knockouts but I really feel I'm going to knock this guy out; I'm going to be his first stoppage. I'm going to stop this guy and we're going to move on to the next one.
"Maidana is a good fighter, a hell of a fighter, but he's not on my level. My career is going to the rooftop. It's going to skyrocket. But this is just the beginning - it starts here.
"On December 14 we're worried about Maidana. I respect his coach; I respect him as a fighter. People say I'm being bashful, I'm being respectful. I can't talk trash to someone who doesn't speak English.
"He's a very respectful guy so I have to respect him, but on December 14 I'm going to beat him."
Regular
And Broner added that a fighter as good as Maidana could bring out the best in the Cincinnati native, who at just 24 has already won world titles at super-featherweight and lightweight.
"I don't even think I've showed all of my abilities yet," he said. "Maidana is a different type of fighter and he might bring something else out of Adrien Broner that the world hasn't seen yet. Or he might be a regular fighter after I make him look the way I make him look.
"I don't watch tape but I've seen him a couple of times. Everybody knows Maidana makes a lot of mistakes and you can't make mistakes with Broner.
"You never know. Maybe I have to sit in there and brawl it out with this guy for 12 rounds. Maybe I mess him up in two. Maybe one."
"Every boxer wants to be where I am right now. I am the person who is going to take over boxing after Floyd Mayweather. Everybody wants this position."