Leonard Bundu stopped Lee Purdy in the final round to retain his European title
Lee Purdy's challenge for the European welterweight title came up short when he was stopped by Leonard Bundu.
Last Updated: 15/12/13 4:12pm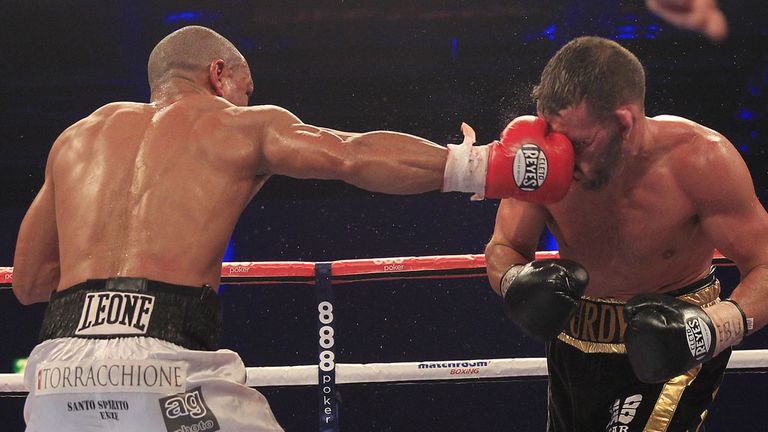 In a cracking fight, the reigning and undefeated champion traded with a hungry Purdy in the early rounds before reverting to his skills and out-boxing the Briton.
'Lights Out' looked in great shape seven months on from his fight with Devon Alexander in Atlantic City, when he failed to make the weight.
And he came out all guns blazing, meeting his 39-year-old opponent in the centre of the ring as the pair traded blows from the outset.
Purdy landed a sharp left hook early on but quickly it was clear Bundu is a smart operator with fast hands, slamming combinations into the Essex banger at will.
At the end of each round Purdy glared and yelped at his foe as if he was lapping up the action, frantic as it was. The home fighter slipped behind as Bundu's quality shone through but he was always in the fight as long as his hooks to the body were backing up the champion.
But after a brilliant fourth, Bundu got on his bike and started to pose Purdy bigger questions, making him miss more often and capitalising with more rapid combinations as he stretched in.
The seventh was a huge round for Purdy as Bundu appeared to be wilting, the 26-year-old walking him down and jamming the body shots in as well as digs around the guard.
The eighth would prove crucial and remarkably the champion came out the stronger, once again asserting his authority as he kept to the left-right-left strategy before backing out of range.
An increasingly frustrated Purdy started to miss wildly and it was he who started to look weary entering the 10th, nicked by both eyes while Bundu continue to work at a high pace.
Purdy needed a knockdown in the last two rounds and although he gave it everything in the 11th, Bundu always had the final say in the tighter exchanges and an exhausted Purdy was finally tagged in the 12th by a big right hook and follow up.
He went down heavily and although he beat the count he was on legs of jelly and although the referee gave him a chance to see out the remaining 15 seconds of the fight, another five unanswered shots meant he had to step in and call it off.
"He was a very tough, especially with those body shots," Italian Bundu told Sky Sports. "After a while I knew I shouldn't go near him, just like my coach told me.
"It was a good stoppage but he's a tough guy and will come again. He's younger and stronger than I was so I had to use my experience and outbox him. "
Purdy was helped away from from the ring and was so exhausted he was unable to face the cameras.