Tyson Fury and Dereck Chisora could challenge for title vacated by Vitali Klitschko
British heavyweight duo Tyson Fury and Dereck Chisora earmarked as potential contenders for WBC world heavyweight belt.
Last Updated: 19/12/13 7:45pm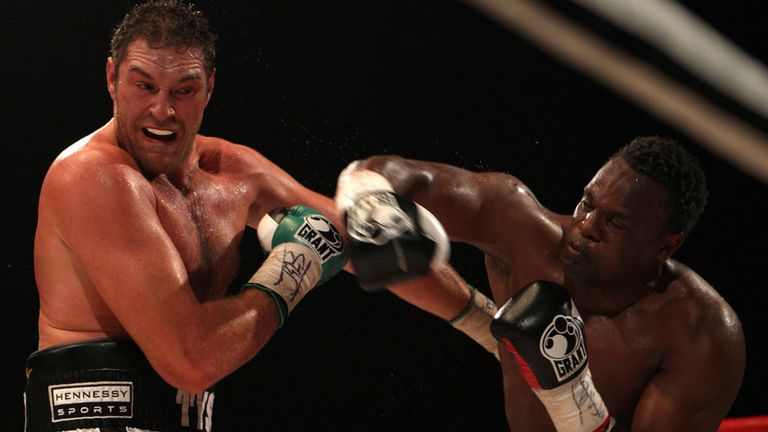 Watt believes that Fury and Chisora have both staked valid claims to challenge for the belt vacated by the 42-year-old, who would be in a position to fight for the title at any point in the future after being named as Champion Emeritus by the WBC.
That prospect seems unlikely with Klitschko intent to focus his efforts on a career in politics and Watt insists the British duo are in the frame for a crack at the belt in 2014.
"Both Fury and Dereck Chisora could be in the mix," Watt told Sky Sports News.
"He (Fury) is not far away, he is very marketable and he's undefeated. If the David Haye fight had taken place and he had won I think he would have been knocking on the door.
"I don't think he has done enough to get a straight crack at the vacant title but we're talking about the WBC who have done some surprising things over the years so nothing is impossible, but he is going to be in the mix."
Chisora has already challenged for the WBC belt, putting up a credible performance against Vitali in 2011 where he took the Ukrainian the distance before losing a unanimous points decision in February 2012.
Watt insists the Finchley fighter is now a completely different prospect who has earned the right to be regarded as an elite level fighter.
"I think he is (world champion material)," Watt said. "His reputation was raised after the performance he put in against Klitschko and I think he is much more business-like in what he does.
"I think he takes the game a lot more seriously than he did at one time and Dereck is another one who could very well be in the mix. He probably feels he has a stronger claim than Tyson Fury although Tyson Fury is unbeaten."
Greats
Watt believes both Vitali and Wladimir will be remembered as heavyweight boxing greats insisting they cannot be faulted for a lack of talent in the division in recent years.
"I think he (Vitali) will be very well judged," Watt said. "Vitali and indeed both Klitschkos are probably the best advert boxing has ever had. They're respectable, they're respected, they're both terrific athletes.
"They've faced everyone there is to face it's just there has been no top-class opposition that has been the problem.
"One of the reasons they may not be well remembered is because they have never really been tested but they're beating people that they are better than and they have done that all through their careers so they can't be faulted for that.
"It's unfair criticism to say that they haven't faced the best it's just that the best haven't been around at the time."