George Groves desperate for Carl Froch rematch and world title shot
George Groves insists Carl Froch and a world title is at the top of his wish list for the New Year.
Last Updated: 26/12/13 8:20am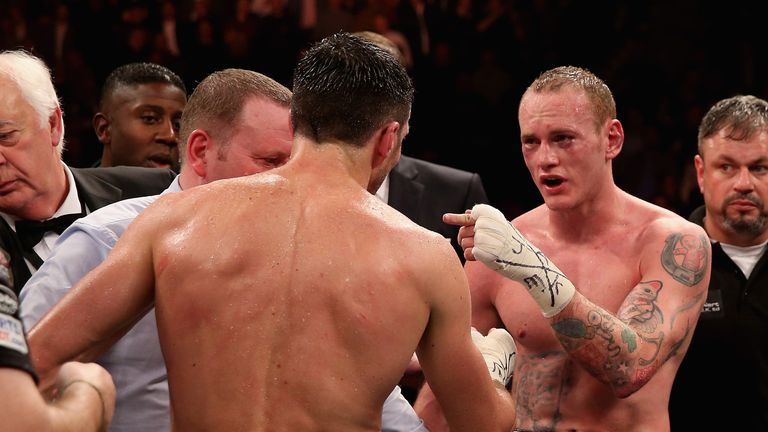 In an exclusive interview with Sky Sports News to be shown on Christmas Day, the 25-year-old Londoner reveals the pain and injustice of November's Froch defeat that is still fuelling his boxing ambitions.
Froch retained his IBF and WBA world super-middleweight titles after a controversial stoppage in the ninth round, despite being knocked down in the opening three minutes at the Manchester Arena.
Promoter Eddie Hearn said three weeks ago a rematch was inevitable if Froch continued his career, and Groves is adamant who he wants to go head-to-head with, despite fears the fighter from Nottingham will not agree.
Groves says: "I say I've got options and I do have options but I don't want these options, I want to fight Carl Froch, I want to be world champion, I want to right the wrong, the injustice of the last fight.
"The fact that there's such a demand for a rematch now, the fact that everyone knows that that's the only fight that can take place next."
Froch retained his titles on 24 November at Manchester Arena overcoming his early knockdown and the fact that the judges' scores had his opponent leading after eight rounds.
It was a compelling contest and just as lively as the war of words that preceded it. Groves adds: "I went in there and had to get under his skin and even to the point where I told him the truth.
"So when the bell goes I told you I was going to take centre ring, I told you I was going to start landing right hands, and then when it starts to happen he's going to start doubting himself.
"It was sickening, to me it felt like I not only had to fight this world champion, not only had to battle against everyone who thought I was going to get beaten, in the end I had to battle with the referee and officials as well."
It was a complicated build-up to the fight for Groves who split with his trainer Adam Booth just weeks before the fight.
Reflecting on their relationship, Groves says: "We had our ups and downs at times, we were close and we're still close, it was nothing that was too shocking, sometimes we'd come to a disagreement that we couldn't repair in a working relationship.
"Having a split from your long-term trainer/manager wasn't easy but it came at a time when I was preparing for a fight so I was in fight mode, it probably couldn't have come at a better time for me.
"I was fortunate to start working with Paddy Fitzpatrick who is also a very very good trainer, we had a great relationship and a great camp for the first fight."
After a lively 2013, next year promises to be even more eventful for Groves. Reflecting on the last 12 months, he says: "Part of me can't wait to see the back of it, part of me has really enjoyed it and can't wait for the next year.
"There have been a few highs and lows, even the lows have had highs, it's been a weird one. Overall I'd like to think that to a certain degree it's been a successful year."