Tyson Fury and Dereck Chisora on collision course again
Tyson Fury and Dereck Chisora could meet in a rematch of their British and Commonwealth heavyweight fight this summer.
Last Updated: 12/01/14 10:29pm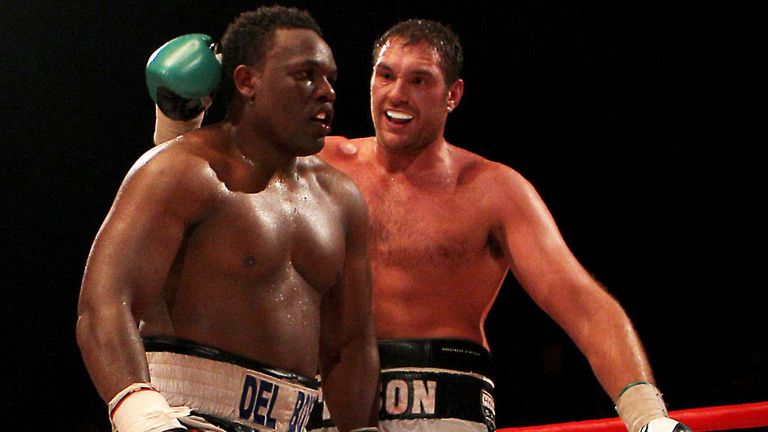 Fury and Chisora are next in action on February 15 at London's Copper Box and if they are successful they look set to be reunited in the ring in June.
Undefeated Fury beat an overweight Chisora on points in July 2011 to take his British and Commonwealth titles.
But he has since suffered frustration after two consecutive bouts against now-retired rival David Haye fell through.
European champion Chisora will put his belt on the line against unbeaten Ukrainian Andriy Rudenko next month, whilst Fury's opponent is as yet unconfirmed.
Promoter Frank Warren said: "The plan is for both of them to come through their fights on the night and then the pair will meet in a massive rematch in June.
"You've got a guy who is undefeated in Fury who has made a name for himself. He's very outspoken and you've also got Dereck who's also been a controversial figure in his time in boxing.
"He's been beaten by Tyson in the past. Tyson won fair and square on the night. I think it's fair to say Dereck could have prepared himself better but that's no excuse.
"They're two different fighters now. Tyson has come on now and he is a much better fighter than he was and so is Dereck. It's got all the ingredients.
"The cherry on the cake is the prospect of it being an eliminator for the world title. It really has got all the ingredients of a super fight."
Premature
However, the agreement was immediately played down by Fury's promoter Mick Hennessy, who said talk of any such arrangement is premature.
Hennessy confirmed a verbal offer has been made to Fury, who recently resumed training in the south of France, but stressed it is some way from being signed.
Hennessy said: "These reports are not true, we have had a verbal offer from Box Nation for Tyson to appear on three of their shows, but as yet have not received any contract to look at and consider.
"Until something is agreed in writing and signed into, myself, Peter Fury and Tyson are still keeping our options open.
"We were told it would be 48 hours before we even receive any paperwork to look at and we are still awaiting any such communication."
Fury's younger cousin, 19-year-old Hughie Fury, will also fight on the Copper Box bill.