Kell Brook will take a warm-up fight as he prepares for IBF title shot
Kell Brook will sharpen his skills in a warm-up fight before he gets a long-awaited shot at the IBF welterweight title.
By Richard Damerell
Last Updated: 14/01/14 10:32am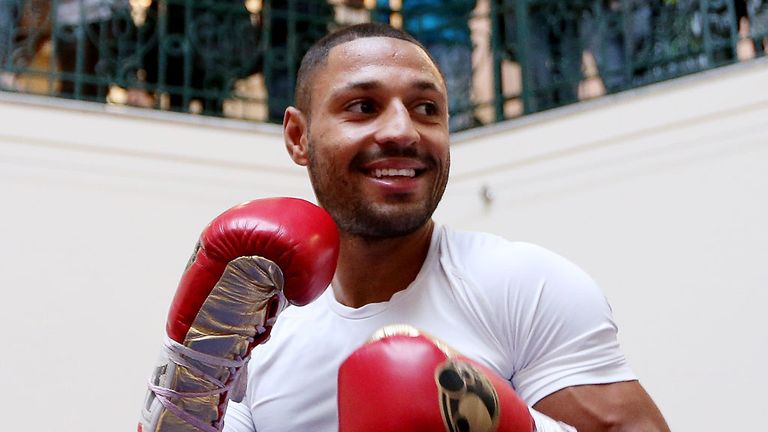 Brook is back on the brink of a world title fight after a string of injuries ruined his chances of battling Devon Alexander for the IBF belt.
Alexander has since lost his title to Shawn Porter and Brook heads the queue of mandatory challengers, but the new champion may take a voluntary defence before facing the Sheffield man.
Brook is not willing to play the waiting game and will keep himself fit and focused with a bout against an unnamed opponent, expected in March.
"There's still talks going on, but I'll be fighting maybe the middle or the end of March," he told skysports.com.
"I'm back in training. It's just a keep-busy fight for me if anything because I've got my eye on that world title fight.
"I just wanted to go for the world title fight, but Porter winning it off Devon, it has given him a little bit of extra time. I think he can get in a voluntary. I'm hearing that they're having a rematch."
Confident
Porter took a shock points win over Alexander in December, ripping away the title with his relentless pressure and bullying tactics.
Brook respects the new belt-holder, but is confident he can bring a swift end to his reign.
"When we get to this level, they are all good fighters," said Brook. "In that fight, he was smothering Devon. I think that's the only way you can get on to Devon, because he's a negative fighter. He's always running on the back foot.
"He went to him and put it on him. I think fighting me is a whole different story, when he feels my power and the game plan we've got for him."
A bitter rivalry between Brook and Amir Khan has festered over the years and the Bolton fighter also has big plans for 2014, with a huge clash against Floyd Mayweather expected to be confirmed.
Brook doubts whether Khan deserves to share the ring with boxing's biggest name and has written off his hopes of victory.
"He's got no chance against Mayweather," said Brook. "I don't believe he deserves the shot, but he's got that image, he's well known, it makes business sense.
"Khan's got good speed, but I just think Mayweather's seen it all. He's an accurate counter puncher - he's not the biggest puncher - but you don't need to be the biggest puncher to knock Khan out.
"I've pictured the fight and I think that Khan will rush in, he'll counter it Mayweather, and he'll walk onto one."
A war of words between Brook and Khan has continued in recent years, with both men predicting crushing wins if the grudge match takes place.
Brook believes he will have the last word, proving his point with a stoppage when they eventually meet.
"I just want to put the record straight and I know for a fact that I'll knock him out," he said. "I wish him all the best in the fight but it's a business. If we do fight I'll be taking him out and that's a fact."