Anthony Joshua is looking forward to a busy year that could include British title fight
Anthony Joshua told Sky Sports he could be set to challenge for the British heavyweight title as early as this summer.
Last Updated: 13/01/14 5:14pm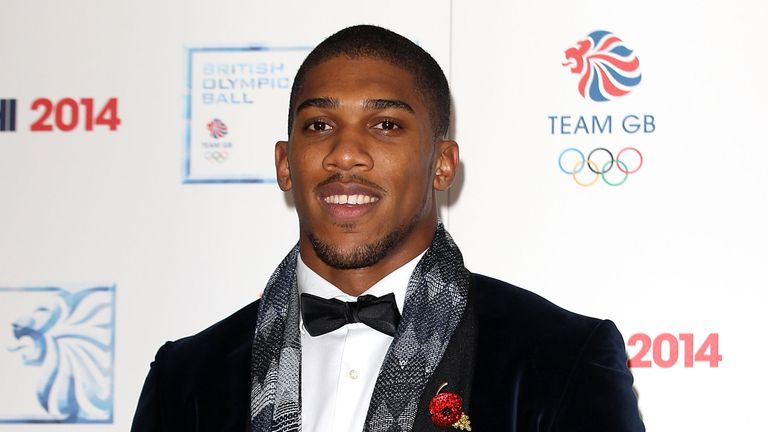 The British heavyweight suffered a minor shoulder injury at the end of 2013 but is now back in the gym preparing for his fourth fight on February 1, the first of what he believes could be as many as 10 bouts over the course of the next 12 months.
The 2012 Olympic gold medallist is also set to feature on the undercard to Ricky Burns' WBO lightweight title defence against Terence Crawford, at the start of March.
"It's a major year, getting to gauge my progress from January to December," Joshua told Sky Sports News. "I'm going to be competing around 8 to 10 times this year.
"We're starting off in Wales on February 1, then coming to Glasgow on March 1, so it' going to be a busy year.
"I've got to put the work in right now. I'm hungry and ambitious - I want to give it my best. I'm ready to take on the challenge.
"I feel great. Sometimes that ambition and hunger can lead me to over-working sometimes.
"I think that's what I did (with the injury). I had a rest over Christmas and now we're into the New Year I'm preparing for my next bout and I feel better than I did last year."
Domestic honours
Despite having only made his pro debut last October, Joshua already has his eyes set on challenging for domestic honours in a division that offers up plenty of potential opponents.
"I wouldn't turn it down if the opportunity arose," he said. "But I do have to instructions from my coach - I'm not a one-man team.
"But me, personally, I'd love to go for the big time and fight for a British title.
"It would be great to see some more domestic clashes, in Great Britain we've got some of the leading heavyweights and some up-and-coming contenders.
"Come summertime they'll be more news to come. Potentially, an opportunity might arise where I compete for a title. But as for now I'm concentrating on February 1."
Promoter Eddie Hearn is certain he has a future world champion on his hands in Joshua and feels the 24-year-old will be ready for any of his British rivals after his next three fights.
"Anthony Joshua has been progressing very nicely. It was a case of monitoring his progress and seeing where we want to take him," Hearn said while in Glasgow promoting Burns-Crawford, which can be seen live on Sky Sports.
"But looking at the division and looking at the speed he is progressing, we want to move forward to that British title fight this summer.
"I was talking to him about the likes of Fury and Chisora on the plan out here (to Glasgow) and he feels he's ready to take those fights now. Certainly at the end of this year, I think he will be in a position to take those kind of fights.
"He's an incredible talent. He'll fight on our 2014 year opener in Cardiff, then he will fight in Glasgow on March 1 and then in Manchester in April. After those three fights, I think he's ready for anyone in the country."