Tony Bellew expects Jean Pascal to beat Lucian Bute in a battle of Carl Froch victims
Tony Bellew believes Lucian Bute will be beaten by Jean Pascal at light-heavyweight - thanks to Carl Froch!
Last Updated: 17/01/14 10:54am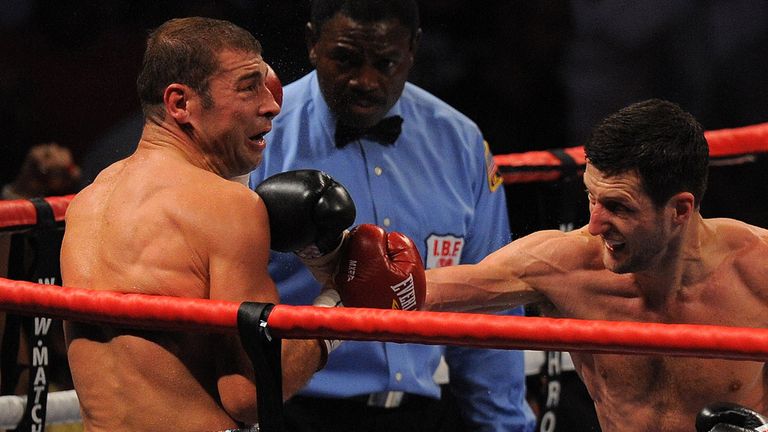 That is the opinion of Tony Bellew, who himself failed to win a world title in the division and has now moved up to cruiserweight.
Bute fights up at 175lbs for only the second time on Saturday night when he takes on another Froch victim, Jean Pascal, in Montreal, live and exclusive on Sky Sports 1.
Both Canadians were beaten in sensational super-middleweight showdowns with Froch but with Bute being battered in just four rounds in May 2012 and having only fought once since, Bellew believes it has left permanent scars on the 33-year-old.
"Don't get me wrong, this is a really good fight but I am afraid I think Bute is a little bit 'damaged goods'," he said. "That Froch defeat was a real damaging fight.
"Carl had a similar one with Pascal but that one with him and Bute was a different level. It was a catastrophic loss for Lucian - and I don't see how he is going to come back from that.
"I think making weight damaged him a fair bit at super-middleweight and when you add to that the manner of the loss, I just have a feeling he might have fallen out of love with boxing.
"It's a tough business to be involved with, even if you haven't had such a crushing defeat and it is going to take him time."
Puncher
Haiti-born Pascal was out-pointed by Froch in a bruising showdown in Nottingham back in December 2008 and, like Bute, had one more fight at super-middleweight before moving up.
But Pascal has now had eight fights at his new weight and was the WBC champion until he drew with, then lost to, Bernard Hopkins.
"Pascal makes an awful lot of mistakes but usually his power covers it up and he gets away with it," said Bellew. "Bute is a good puncher, too, and I wouldn't be surprised if we see both of them going down.
"I just think Pascal has a little bit more youth on his side and I just think he is a little bit better seasoned than Bute.
"When the going gets tough I have seen Bute turn away in a couple of fights; he did it in the Librado Andrade fight, then against Froch and again, in his last fight against [Denis] Grachev. He looked vulnerable.
"One thing about Pascal, he is very strong. He is always fit, he is an outstanding athlete, but he is also very reckless and his technical ability isn't that good but he makes up for it in heart."
Gel
Pascal went 12 rounds with Froch and Bute just the four, yet, ironically Bellew is expecting the latter to last the pace when they face-off in front of a packed out Bell Centre in Montreal.
In both Hopkins fights, Pascal appeared to "fade fast", but showed in his last bout that he is still dangerous early on and cut down George Blades in five.
And Bute, even without the Froch effect to deal with, is the sort of smart fighter that could sit back and soak up Pascal's pace - and avoid his power.
"I do think their styles will gel," Bellew said. "But I think Bute might take a bit of safe approach in the early going because I think he knows Pascal is going to start very quick.
"Pascal is a front runner in my opinion - he starts fast and he jumps on fighters if he can and sets the pace - but he can also fade fast after four rounds. That has happened in numerous fights of his and he really does slow down."
Power
Bellew, though, is sticking with his prediction and tips Pascal to finish it off before what could turn out to be a bitter end.
He is full of praise for the 31-year-old's fitness and even if his "recklessness" comes into play, he can only see the "outstanding athlete" winning the fight.
"I would say that happens anywhere between four and eight," he said.
"I don't see a stoppage if Pascal slows right down and if Bute is still going strong after eight rounds, but I think Pascal's power will catch up with him and he will get rid of Bute in those middle rounds."
And with Canada dominating the light-heavyweight scene of late, will the winner get to face the man who beat him, Adonis Stevenson?
Bellew admits that money can make a fight, but he cannot see either of the pair stepping in the ring with the number one light-heavyweight in the world.
"I am not sure," he said. "It is a match made in heaven for the promoters over there but I don't think, to be honest, that either will want to get in with Stevenson," he said.
"I don't think Pascal would want to touch him and I'm told that Bute doesn't want anything to do with him either!"
Tony Bellew will be in the studio for Sky Sports 1 coverage of Lucian Bute v Jean Pascal, live from 2.00am on Sunday morning.