George Groves tells Sky Sports he is waiting for Carl Froch rematch
George Groves is confident he will get his rematch with Carl Froch as the war of words continues.
Last Updated: 21/01/14 2:19pm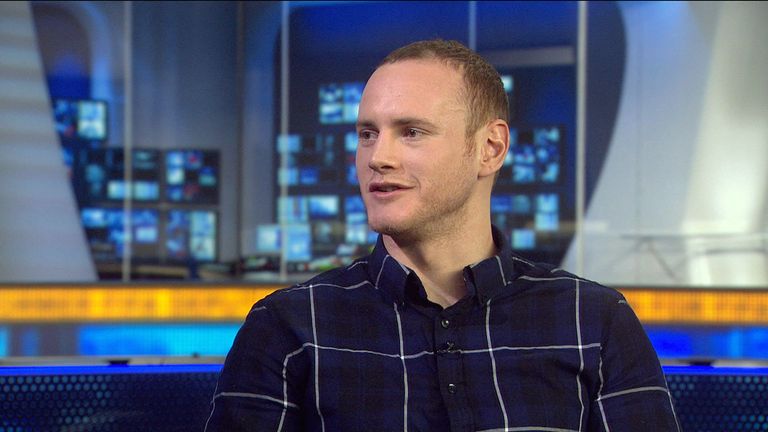 Froch, 36, held on to his IBF world title in a classic bout in November - but only after the 25-year-old Groves had knocked the champion down during a whirlwind opening round.
'The Cobra' continued to endure some heavy punishment into the middle rounds but produced several telling shots in the ninth - prompting referee Howard Foster Jr to controversially halt proceedings in the Nottingham fighter's favour.
On the possibility of a rematch, Groves told Sky Sports: "Like a lot of fights, it appears to be very close but until it's in your hands, it's never close enough. The vibes I'm getting from Carl Froch's camp is that they desperately don't want it and keep talking about other options.
"Ultimately, I stand firm on my bold claims that he has no option but to fight me. It's the fight that the fans and the public demand, that the television networks want and it's the fight that the media in general wants.
"I know and I feel a lot of people know why he doesn't want to fight me, because apart from getting beaten he'll probably get hurt as well. He embarrassed himself pretty badly in the build-up to the fight and failed to perform.
"It was very unsatisfactory. Nobody really feels the fight is finished and it all adds to the feeling that this fight needs to happen again. That's where I'm at.
"You can be super-critical of yourself and I always am. I boxed a very good fight. I had a lot of pressure going into it, up against a world champion. Nobody thought I was going to win and I had to change camp. There were lots of things that can take away from a performance."
Unsatisfactory
The decision prompted Groves and his team to launch an appeal to the IBF, who they hope will force Froch's hand into signing up to face the Londoner for a second time.
Groves added: "It was a boxing match. You throw punches, you take punches. I was fully ready and able to continue boxing. I did not need saving. Because of that, the fight should never have been stopped. I was shocked when the referee jumped in.
"I was out in New Jersey last week making an appeal to the IBF. I find out the results this week. It was in front of a panel of referees etc. I'm quietly confident. We presented a very good case. Our grounds was bias from the referee and that the finish was unsatisfactory.
"The whole basis of the hearing is for them to force a rematch, giving Carl Froch no option. Ultimately, if they instate me as mandatory, he'll have the option to fight me or vacate or be stripped.
"Even if it goes against me, the public demand for it is there and it's what they want to see. The IBF may go against me because he's an IBF-instated referee. If it doesn't go my way, I still feel I'll get my rematch. There's no other fight out there for Froch - unless he wants to retire, it has to be a fight with me.
"Carl, it's not hard to find me. I'm here at Sky. Come down. We need to get a rematch on. You need to come out and say something other than a pay day and that as champion, you call the shots. You don't call the shots.
"I'm here, I'm waiting. It's going to be the biggest fight in Britain this year and could be the biggest fight here for an awfully long time. We're talking about Wembley and huge viewing figures on Sky. Let's make the fight happen."