Gavin McDonnell is looking to make a name for himself in Hull next month
Gavin McDonnell will bid to step out of his twin brother's shadow when he takes on Leigh Wood next month.
Last Updated: 28/01/14 4:36pm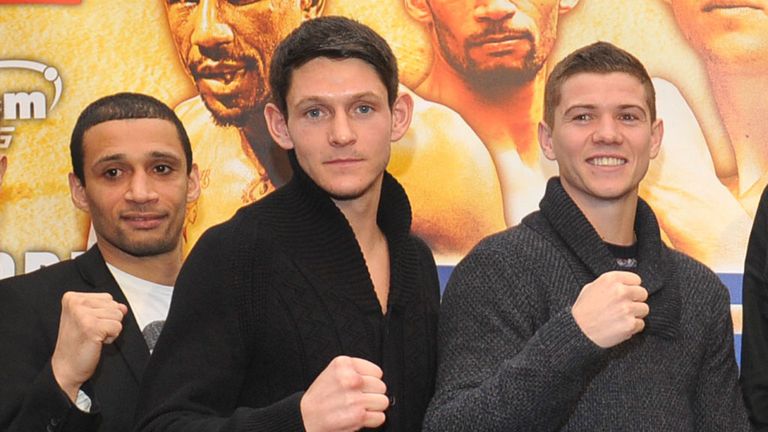 Unlike Jamie, a former British, Commonwealth, European and world champion, Gavin's career has been slow to ignite.
But while McDonnell has an unbeaten 11-fight record (one drawn) he has been able to garner plenty of experience of the big time having been at Jamie's side throughout his career.
And while Gavin knows it is now his time to perform in the ring, he believes that experience will stand him in good stead.
"Anything and everything we do we get compared, but I think it's a good thing," he told Sky Sports. "It spurs me on and that's a lot of my motivation anyway - I know I'm going to get compared to Jamie and I want it to be a good one.
"I want to out-do him. There aren't many twin brothers who want to follow the path that the other has taken, but I want to get there and this is my first chance to do so.
"I love what he's achieved and that's what drives me. He's always been an underdog, all his major title fights he's always been the underdog and I've been there and seen him do it.
"So I know first hand that if you work hard you can reach your goal. That's why I'm confident that if he can do it, I can do it.
"It's all new to me right now but I've picked up all Jamie's knowledge and experience. All the people around him now can only be a help to me. In reality I'm in a better position than he was it a similar stage of his career.
"I'm older than what he was but age is only a number at the end of the day. I've got plenty of years to get to where he is. If I win the British title in my 12th fight, it's something that he didn't do."
Solid
McDonnell will head into the fight in Hull as favourite after defeating Josh Wale in a final eliminator for the title, recently vacated by Kid Galahad.
"It was a solid 12 rounds. To be honest going into it I thought I could get the stoppage, I knew he was tough but I thought I'd box him all day long and get a good win, he very rarely gets stopped and I didn't want to force it.
"It put me in good stead for this fight. Although Leigh might have it in him, he's not done 10 or 12 rounds before whereas I've done them, I know what it feels like.
"I don't expect to stop everybody, I go in prepared for a 12 round fight every time. He thinks he's a big puncher, I don't know where he gets his confidence from, but at the end of the day I can't see him knocking me out and I think I could get a stoppage on him.
"We're both 11-0 though and it's a good 50-50 fight. But I want to win this, and wouldn't mind winning it outright. I need the experience so there's no point me chasing anything else.
"I good year at British level - that's what I'm hoping for. I'm not under-estimating Leigh, this is my hardest fight to date, he doesn't want to lose of course so obviously it's going to make for a good fight."
McDonnell has spent the vast majority of his career fighting on 'home' canvas at the Doncaster Dome, but he is looking forward to appearing in front of a packed house at Hull's Ice Arena.
"It's like an away fight but it's all experience - like being in front of the television cameras. You've got to get used to these big events. This is what I want to do and I'm learning all the time, the same as I am in the fight.
"I'm learning my trade and I'm looking forward to a good year at British title level - but I've got to win it first."
The fight, which is live on Sky Sports, provides support on a show featuring Darren Hamilton v Curtis Woodhouse, plus appearances from Hull favourites Luke Campbell and Tommy Coyle.