Gary Buckland ready for crucial showdown with Gavin Rees in Cardiff
Gary Buckland plans to revive his career with a win over Gavin Rees, which could send his opponent into retirement.
Last Updated: 30/01/14 8:34pm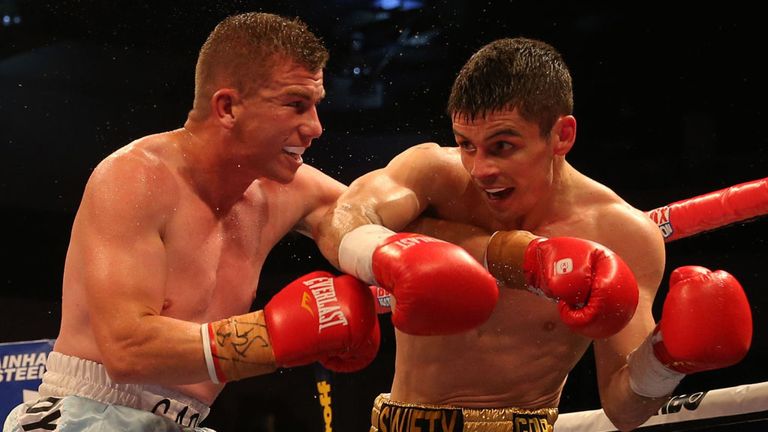 There is plenty at stake for Buckland and Rees in the British lightweight title eliminator at the Motorpoint Arena in Cardiff, live on Sky Sports.
Buckland has stepped up a division after losing his British super-featherweight belt in a dramatic knockout defeat by Stephen Smith.
Fellow Welshman Rees, a former world champion, suffered an upset points defeat against Anthony Crolla in his last outing and has threatened to quit if he loses again.
This weekend's winner will be propelled into title contention, with the loser facing an uncertain future, and Buckland is determined to seize his chance.
"I don't want to make excuses about the Stephen Smith fight, I lost fair and square," said Buckland.
"The only thing I can put it down to was other things going on in my life during my training camp. I was distracted big time and that showed in the fight.
"A win over Gavin would get be back to British title level. I thought I would be on some small hall shows, which I would struggle to get up for. So when I was offered Gavin Rees I thought 'what a fight to get me back up'. If I beat Gavin I will be back in with a shot at a big title.
"At lightweight I will be a bit stronger but I am happy to box at either weight, whatever my options. After Saturday's fight we will sit down and look at the options but I'll be a different beast at the higher weight.
Mistakes
"A fighter doesn't know what he has left until he's in there again. I know I made mistakes before Smith, I know there were things on my mind. For this fight I've worked very hard for five weeks and done everything right this time.
"In all my defeats I've come back stronger than ever and I'm hoping this will be the same, starting with the Rees fight."
Rees has been involved in a number of exciting dogfights during his career and Buckland also relishes a close-quarters battle.
But the hometown fighter believes Rees will also display his boxing skills.
"This will be a really tough fight," said Buckland. "Gavin Rees is one of the strongest opponents I have ever faced. I wouldn't say the strongest but certainly one of - he is up there with Gary Sykes, Stephen Smith, so I will need to be careful.
"You have to be careful whichever boxer you get in with and when I was offered Gavin Rees it was the sort of fight I can easily get up for.
"I am expecting the best of Gavin Rees. Everybody wants to see a toe-to-toe war between me and him but I expect he will box well as well. The two of us can do a bit of boxing and I think that is going to happen.
"I think the Crolla fight was one Gavin probably thought he was winning but I certainly didn't think so - I thought Crolla was a couple of rounds up.
"When you look at it you question does he need to carry on - he is a former world, European, British champion, he has won everything. But he seems to keep doing well and carrying on so you have to give him great credit for that."