Lee Selby wants to emulate Joe Calzaghe after beating Rendall Munroe
Lee Selby insists his path to becoming a Welsh boxing great begins on Saturday when he faces Rendall Munroe in Cardiff.
Last Updated: 01/02/14 8:17am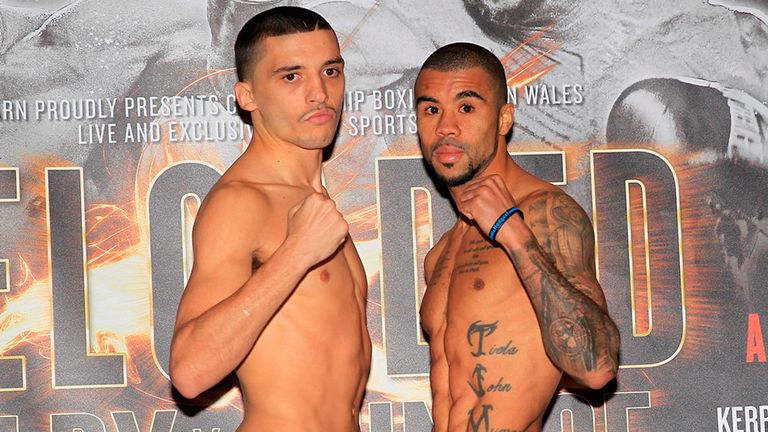 The 26-year-old, who also defends his British belt against Munroe, is on a run of 13 consecutive victories ahead of his first professional fight in the Welsh capital.
And the Barry fighter hopes this will be the first of many fights for him in Cardiff as he bids to emulate Joe Calzaghe in becoming a Welsh boxing great.
"The show has sold really well and a great win means I will headline here again and again," he said
"It would be nice to have the recognition of Steve Robinson, Robbie Regan and Joe Calzaghe who all fought a lot in Wales and did amazing things for the sport and the country. This is big-time boxing and this is what Wales needs.
"Being on top of a Sky Sports show is something you dream of as a kid. I don't feel the pressure so it'll be nice to have the fans behind me. It will be nice to be cheered into the ring instead of booed. It will be nice to be built up in front of my home crowd and build up a good following in Wales.
"I've been on the road most of my career. Even when I started off I was going away as the opponent against the home fighter. I either like to be hated or have all the fans on my side, either way I perform to my best.
"I want to fight for a world title, that's every boxer's aim but I really believe I'm closing in on that now.
Keep it
"I think I would hold my own against any featherweight out there right now, but I don't want to just challenge for a world title I want to win it and keep hold of it. So I want to be ready to do just that, reach the top and stay there."
Selby paid tribute to Munroe but insists his 33-year-old opponent will struggle against him this weekend.
He said: "Rendall was a great fighter. I remember boxing on the undercard of him and Kiko Martinez (February 2009). I watched the fight and I thought it was brilliant. But he has been at his best and I think it is my time now to take over.
"Rendall travelled to Japan and came up short in a World title fight against a great fighter and got stopped by Scott Quigg, who is another great fighter, so he knows how to mix it at the top, but I've been working on things in the gym to get him out of there.
"I think it'll be a very competitive fight early on but my class will show in the later rounds."
Watch Lee Selby fight Rendall Munroe live on Sky Sports 1 from 8pm