Tony Bellew hopes to revenge rematch with 'fraud' Nathan Cleverly
Tony Bellew hopes his move up to cruiserweight will lead to a grudge match against bitter rival Nathan Cleverly.
Last Updated: 05/02/14 6:35pm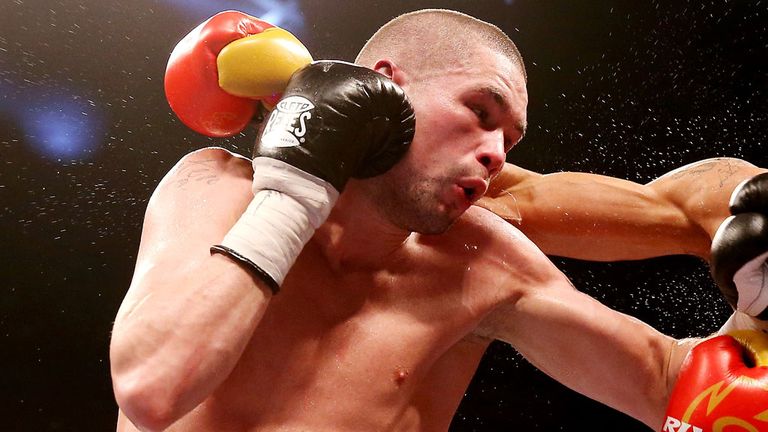 Bellew was beaten by the Welshman at light-heavyweight in 2011 and the close majority decision still rankles with the Liverpudlian, who will debut in his new weight category next month against Valery Brudov.
He was crushed by Adonis Stevenson last time out in November but feels the move up will make his life a little easier as well as giving him a chance for revenge on Cleverly, who also decided on becoming a cruiserweight after being beaten by Sergey Kovalev in Cardiff.
Bellew said: "I know my promoter Eddie Hearn is keen on getting me in against this other clown (Cleverly) and wants to make it happen. I'll do it.
"He's the only person in boxing I truly despise. I don't like Adonis Stevenson as a person but he's a great fighter whereas I just despise the other fella on every level. I detest him. The way he looks at me, looking down his nose, thinking he's something he's not.
"He's a fraud. He doesn't even want to be a boxer. If I have to go through him to get a world title fight then so be it. I'm happy to do it.
"I basically had to beg for the rematch after the first fight and was told 'no'. Everyone knows how much I wanted it - and how much he didn't want it.
Demolished
"Now he has nowhere to go. He sells about 10 tickets in his hometown while in Liverpool we can sell 10,000. I believe he needs me now and I don't need him. But with my attitude towards him, I'd love nothing more than to give him a good hiding."
Bellew admits he probably should have made the move to cruiserweight a little bit earlier and had little choice after he was demolished in six rounds by the Canadian, a man he has huge respect for - in the ring at least.
"If it's not broken then don't fix it and I was making the weight for years and while it was a struggle, it was working for me," he said. "It wasn't 'broken'. But Adonis Stevenson broke it. He shattered it.
"But it's up to me to fix it, it's a simple as that, and I'm going to do what I should have done maybe two or three years ago and do what I've got to do by moving up. I'm sure I'll get back to where I was a light-heavyweight at cruiserweight.
"He's the biggest pound-for-pound puncher in the world and one of the most in-form fighters on the planet.
"I've never chosen the easy route to world titles or the easy route in fights and I came up short against Stevenson.
"Stevenson is a pretty disgusting human being but he's an outstanding, amazing fighter with an amazing punch and an amazing defence. I give him his due on the fighting.
"I've never done things the easy way and never shirked a challenge and I'm not going to start now."