Eddie Hearn says Carl Froch-George Groves talks frustrating, but still hopeful over rematch
Eddie Hearn has admitted negotiations over a rematch between Carl Froch and George Groves are frustrating.
Last Updated: 05/02/14 2:54pm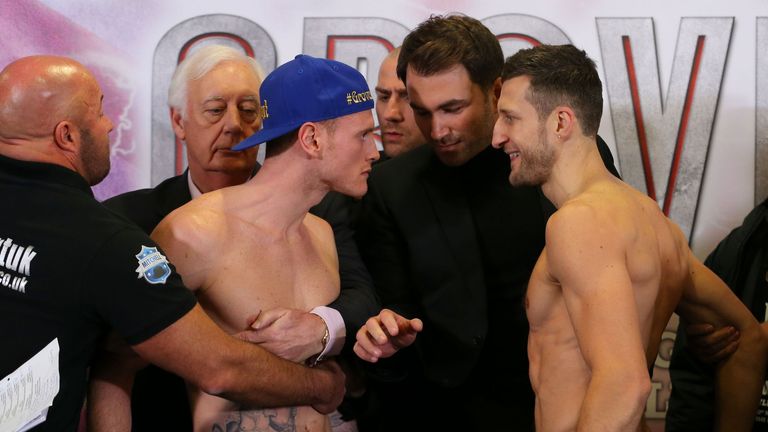 The 25-year-old underdog Groves was controversially stopped in the ninth round of a titanic contest in Manchester back in November - resulting in Froch retaining his IBF and WBA super-middleweight titles.
However, Groves subsequently won an appeal to the IBF to become mandatory challenger and has called for the fight to be ruled a 'no contest,' while Froch has insisted he will not be press-ganged into giving the Londoner a rematch.
With rumours that the 36-year-old 'Cobra' will instead opt to fight Julio Cesar Chavez Jr in a big-money bout in Las Vegas continuing, Hearn said of the talks with Groves: "We're still going. I think purse bids will be called this week and it will take 28 days until they happen. During that time you can still negotiate.
"It's frustrating. Earlier this week it felt like we were quite close and then it was not so close a few hours later. I'm still hopeful we can get there, as I have been from the start.
"Both fighters have probably got to loosen their belts a little bit and then hopefully we can get there. It's frustrating at the moment but we're still hopeful."
Purse split
The major stumbling block appears to be the purse split, with Froch claiming Groves has already turned down a 'seven figure' offer and reports emerging that the youngster was unhappy with the 85%-15% split passed by the IBF.
Matchroom boss Hearn added: "It would be a crime for it not to happen but I believe it will.
"As the promoter I have to look at all the options for Carl Froch, including Julio Cesar Chavez Jr and Gennady Golovkin as potential opponents . But, ultimately, this is the biggest fight out there, I've said that from day one.
"The IBF's decision to call for the rematch both helped and hindered the possibility of the fight. It helped because Carl doesn't want to vacate his IBF belt really, so he probably will fight George.
"But it hindered because they ordered the purse bids with an 85 per cent -15 per cent split, which ultimately lowers George's bargaining position, which doesn't really work that well in negotiations between two people who don't particularly like each other.
"So it's helped and it's hindered the process but I'm still confident we can make it happen."