Tyson Fury predicts an explosive win over Joey Abell at the Copper Box
Tyson Fury has promised 'fireworks' when he returns to the ring on Saturday to face American heavyweight Joey Abell.
By Dev Trehan
Last Updated: 15/02/14 6:40pm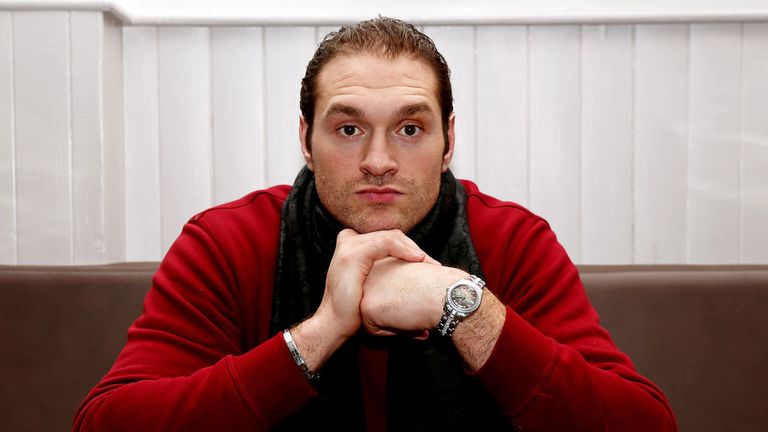 The Wilmslow fighter has not fought since defeating Steve Cunningham at Madison Square Garden last April and has subsequently seen a fight against David Haye fall through on two occasions.
Fury says he has now put the disappointment of not facing Haye behind him and is looking forward to making a return to action this weekend.
"I can't wait to get back in the boxing ring because it has been quite a while now," he told skysports.com. "I don't think I'll be rusty because my camp went really well. I've had plenty of sparring now, and throughout the two camps for the fights that never happened.
"It was frustrating (seeing fights against Haye fall through) but you get over these things. There are hurdles in life and you just have to get over them.
"I'm just looking forward to getting in there now on Saturday and doing a demolition job on Joey Abell.
"There are going to be fireworks and you're likely to expect a knockout. Either me or him are going to sleep because I'm not here to mess around - I'm here to knock people out."
Fury's 32-year-old opponent has an impressive knockout ratio, with 27 of his 28 victories coming inside the distance.
The Minnesota southpaw was drafted in at short notice after Gonzalo Omar Basile withdrew with a lung infection and Fury insists he cannot afford to underestimate his new opponent.
"I don't know much about Joey Abell but he's a big tall southpaw who can punch," Fury said. "He tends to lose at the top level but if you're not on your 'A' game he can knock you out.
Southpaw struggles
"I've had one pro fight against a southpaw and I struggled. Amateur or pro I've struggled every time I've come up against one so he could be a nightmare opponent for me because I've had no southpaw sparring either.
"I don't really like southpaws but hopefully he won't be an awkward one and he'll be a come forward straight southpaw.
"If he's like that, if he's going to throw punches I'm just going to slip, counter and knock him out."
Fury boasts a perfect record of 21 wins from 21 fights but revealed plans for his latest fight have been far from smooth.
"Preparations have been really tough," he said. "My wife has been in hospital for the last five days, I cut my eye in sparring, and then I had two of my cars set on fire when I was away at camp so it hasn't really been a great week for me.
"But it's not going to affect my performance on Saturday. I'm here to fight and I'll deal with whatever issues I need to deal with after."
The 25-year-old also gave his view on the eagerly-anticipated rematch between Carl Froch and George Groves which will take place on May 31.
He said: "George Groves and Carl Froch? I don't really get on with the pair of them to be honest. But I think Froch will win. He beat him once before and he'll beat him again."