Tyson Fury stays clothed at weigh-in for Saturday's fight with Joey Abell
Tyson Fury was involved in pre-fight antics as he stayed clothed at the weigh-in for Saturday's clash with Joey Abell.
Last Updated: 15/02/14 11:37am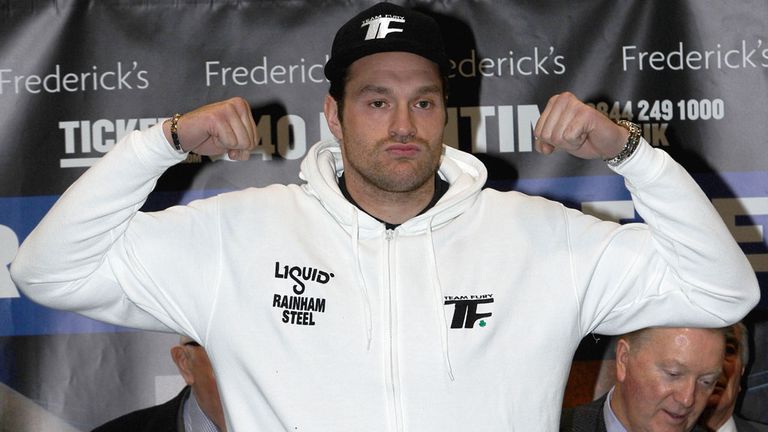 Fury was a career heaviest 19st 8lbs for his heavyweight clash with Abell, although it was hard to judge his real weight after he stepped onto the scales with a full tracksuit, shoes and cap.
The 25-year-old has attracted headlines throughout his career, regularly taunting his rivals on Twitter, and appeared to play mind games with his American foe.
British rival Dereck Chisora is no stranger to controversy himself, but was respectful towards opponent Kevin Johnson ahead of their bout on the same bill at the Copper Box Arena in London.
Chisora stayed active last year, picking up four stoppage wins, and looked trim at 17st on the stage.
'Del Boy' even shook hands with American Johnson, who had vowed to ruin plans for a Chisora-Fury rematch in the summer.
Johnson lasted the distance in a points loss to former WBC king Vitali Klitschko, while Fury also had to settle for a decision win over the Atlanta man, and Chisora is keen to send out a statement.
"Johnson's a good strong American fighter with a good reputation, just what I need to make me perform to my best," he said.
"He's a tough boy, he's taken Fury and Klitschko the distance, and if I can become the first man to stop him then it would send a big message to Fury and the rest of the heavyweights out there."