Olympic hero Luke Campbell admits he is a marked man ahead of ring return
Luke Campbell admits every opponent is hoping to harm his reputation as he prepares to return to the ring on Saturday.
Last Updated: 19/02/14 2:50pm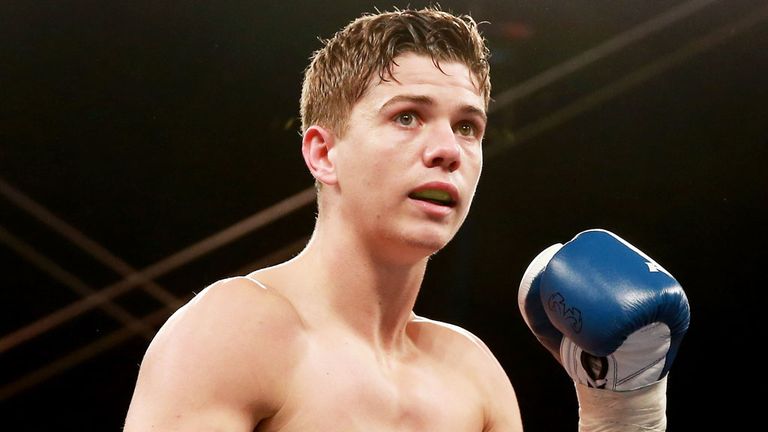 Campbell became a British boxing hero when he won gold at the London 2012 Olympics and has continued his success as a professional, picking up four straight victories.
The 26-year-old's next bout is an eight-rounder against Scott Moises in his hometown of Hull this weekend, live on Sky Sports.
Much is expected from the lightweight star and he is fully aware that every foe will be trying to make a name for themselves with an upset win.
"Everybody has it in for you and everybody wants to beat you that little bit more because you are an Olympic champion," said Campbell.
"I have to be that little bit more prepared and that little bit more professional in what I do because knowing that fact that everyone would love to beat me. I have to be well prepared.
"I am not in this game to mess around and I want the titles just as much as any other boxer
"But I want to assess each performance after every fight and go from there. I am an Olympic champion and I do believe in my own ability. Time will tell."
Pressure
Campbell has halted three of his four opponents, but insists he is still getting to grips with life in the paid ranks.
"I still don't feel as though I am as good as I was during the Olympics," he said.
"There are differences of course - more rounds, no headguards, adapting to the pros - so there is a lot to take into consideration.
"There is pressure as well. There are not many professional boxers who have had four fights and been top of the bill in two of those fights. I had the experience of the Olympics - that was pressure, serious pressure - now I look at this as sit back and enjoy it."
The Yorkshireman was taken the distance in his last outing against Chuck Jones on the undercard of the Carl Froch-George Groves fight in November.
Campbell admits his preparations were far from perfect and learned important lessons on the night.
"I didn't get to the stadium in time," said Campbell. "There were a lot of knockouts, and that rushed the show on quite a lot and I wasn't ready. I felt rushed in what I was doing but that was my own fault.
"I found out in the third round that it was a four rounder and not a six. I was expecting to do the six and grind him down and go for the stoppage in the last two rounds.
"But it was good to do the rounds - you are not going to stop everyone and it is as much about learning as it is winning and that is what I try and do with each performance.
"I haven't changed anything to prepare for the eight rounder, I have just increased my work load. I am feeling great.
"It is the best I have ever felt during camp. I have tweaked a few things and I will be ready for the eight rounds. It is going to be another step up doing eight rounds, but I am looking forward to it."
Campbell's clash with Moises tops an exciting bill in Hull, with Darren Hamilton aiming to secure the Lonsdale belt for keeps when he defends his British light welterweight title against Curtis Woodhouse.
Another Hull fighter Tommy Coyle defends his IBF International lightweight title against Daniel Brizuela, while Doncaster's Gavin McDonnell faces Leigh Wood for the vacant British super bantamweight title.