Tommy Coyle says he will beat Kevin Mitchell as long as he comes through Saturday's test
Tommy Coyle says he will beat Kevin Mitchell but first has to overcome a "50-50 fight" with Daniel Brizuela.
Last Updated: 21/02/14 5:19pm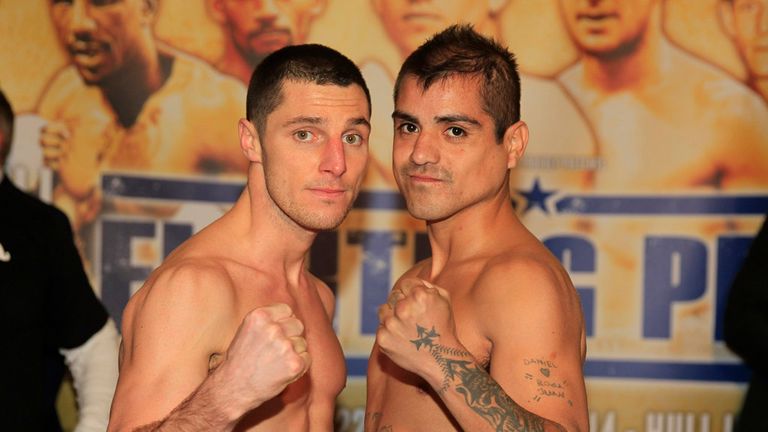 The Hull lightweight has all-but signed a deal to tackle former world title challenger Kevin Mitchell in what is likely to be an IBF world-title eliminator.
It could be one of the supporting acts when Carl Froch and George Groves's rematch takes place on May 31- providing he comes through Saturday's test, live on Sky Sports 2.
Mitchell has already said he wants the fight to happen - and will win - and while Coyle might lack the same experience he is certain he will be the one winning a shot at current IBF champion Miguel Vazquez.
"I can't look pass Brizuela and it is going to be a tough fight," he told Sky Sports. "It's a real 50-50 fight so it would be silly to look past this.
"But looking further on, if I come through this then there is talk of fighting Mitchell on the Froch-Groves undercard and I would love that fight.
"And it is one I'd be confident of winning."
Coyle though did not spend too long looking down the line as he makes a step into the international scene on home soil in Hull.
Warrior
Brizuela has a decent record of 17-2 but has only won seven by knockout which suggests it is not going to be a slugfest. The visitor weighed in at 9st 5lbs 12oz, not far away from super-featherweight, while the local hero hit the scales at 9st 8lbs 4oz.
Coyle, 24, has won twice since being stunned by a 10th-round knockout at the hands of Derry Matthews and is expecting a far more tactical affair.
"He's a former Olympian, so he's got all the credentials," he said. "He's going to be a tough challenge for me. He's not your typical Argentinian who comes in with a warrior mentality, a come-forward fighter.
"I think it's going to be a bit of a chess match, he's going to try and nick the rounds, box smart, box and move, so I've got to close the range down and do the job."
This will only be the second time that Brizuela has fought outside his homeland of Argentina in eight years.
But it that was hard enough to cope with, he comes to a Hull that is right behind it's local boxers, not least Coyle.
He admits it is all down to Olympic gold medallist Luke Campbell - who is also on the card on Saturday night - and even if he admits they could meet further down the line, Coyle was full of praise for his friend.
But above all, Coyle paid tribute to new trainer Jamie Moore.
"Teaming up with Jamie has been fantastic," he said. "All his experience in this sport is starting to rub off on me and I feel more confident as a fighter now than I did a year ago.
"We've got a good gameplan for the fight and all I've got to do is stay disciplined and listen to what Jamie says in the corner and that will get me the win."