Tommy Coyle beat Daniel Brizuela in a fight that saw both men dropped four times
Tommy Coyle overcame four knockdowns to retain his IBF international lightweight title against Daniel Brizuela in Hull.
Last Updated: 23/02/14 1:06pm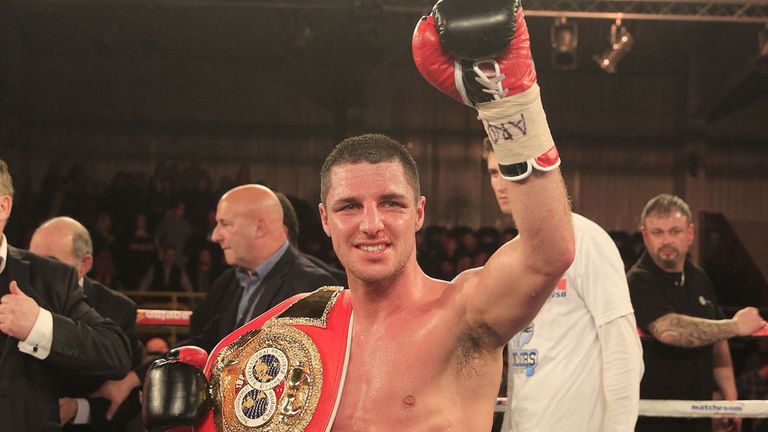 In one of the wildest fights you could ever wish to see, Coyle was always on the back foot after he was dropped by a right hand in the second round.
A sickening body shot put him down again in the sixth and when he crumpled to the floor again in his own corner later in the round the game looked up.
But, showing tremendous heart, the local boy bravely fought his way back into the fight and after being docked a point early in the eighth for repeated low blows, he caught his Argentinian foe with right hook that put him down.
Brizuela made it to the bell on unsteady legs, and suddenly Coyle was on top, if not ahead on the scorecards.
Brizuela was then surprisingly penalised for a low blow in the ninth that had Coyle down and gasping for oxygen, and the heads came together in the 10th in a tangle that saw a cut open up above Brizuela's left eye.
Drama
The Argentine seemed to have caught his second wind though in a close 10th round, but there was further drama to come.
The 11th was the best of the fight - Brizuela digging spiteful left hooks to the body that once again had Coyle over, his face twisted in pain.
Remarkably Coyle not only beat the count but threw a huge right over the top that sent his opponent crashing heavily to the canvas.
Brizuela beat the count on wobbly legs but a combination of punches put him down for a second time in the round. Coyle's eagerness to finish it saw him deducted another point for hitting on the break as scorecards were torn apart in a rip-roaring finale.
Into the final round it seemed that Coyle to win it to have any chance of retaining his title - and it was barely 30 seconds old before Brizuela was down again to a big right cross.
Once again he beat the count but he didn't have much left and when he went over for a fourth time, referee Steve Gray called it off despite the determined South American rising at the count of six.
The packed Ice Arena was ecstatic as Coyle deservedly took all the plaudits coming his way.
But as epic as the fight was - with eight knockdowns and three points deducted - Coyle may need to re-think his ambitions in a loaded lightweight division with the dangerous Kevin Mitchell possibly next up.