Leon McKenzie pays tribute to Curtis Woodhouse after British title victory
Leon McKenzie says Curtis Woodhouse's win over Darren Hamilton in Hull on Saturday was nothing short of magical.
By Dev Trehan
Last Updated: 27/02/14 11:02am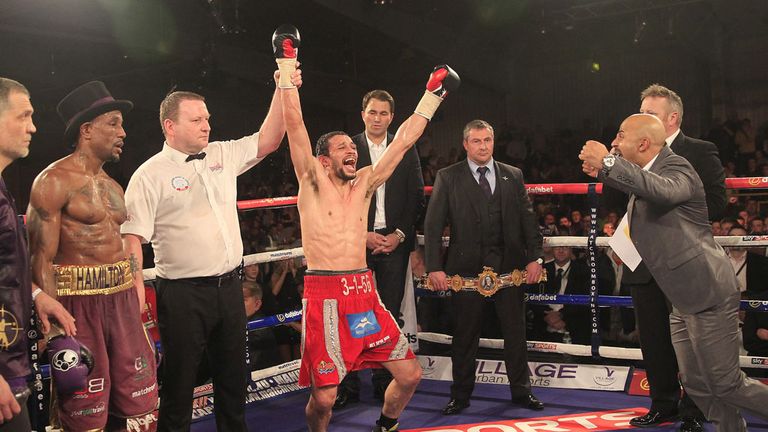 Woodhouse secured a marginal points decision over Hamilton to fulfil a promise to his late father that he would one day become a British champion.
McKenzie, himself a former Premier League footballer-turned-boxer, praised his old team-mate for demonstrating an unshakeable desire to come out on top after a bruising 12 rounds against the Londoner.
"It's an absolute dream come true and it really is the ultimate success story," McKenzie told skysports.com.
"When you look at what Curtis Woodhouse and what he has done the only thing I can say is that it is the stuff that dreams are made of.
"The kid has won a British title when even getting the shot was amazing in the short career he's had after starting at 26.
"I know him as a person and I know what it took out of him so I had tears in my eyes when he gave his speech (at the end of the fight). It was fantastic and I almost felt like I was there with him because I guess in a way we are from the same school.
"I used to play with Curtis at Peterborough and that's where we became friends. Even then, sometimes he would come in with a black eye and I used to wonder what on earth he was up to!
Dedication
"But what stands out for me is his dedication to continually trying to fulfil his dreams."
McKenzie was not shocked by Woodhouse's heroic performance but feels the contribution made by the 33-year-old's team cannot be underestimated.
"I wasn't surprised because he has got that work ethic," the former Crystal Palace and Norwich City striker said. "He may not have the most natural ability but he puts in so much effort and he will bring the fight to you. He works the body really well.
"I think it also made a lot of difference with Adam Booth coming in because you could see he was that little bit more settled and less erratic in there.
"He was moving his head really well, he was fainting and he was doing things that I hadn't seen before and obviously it worked out.
"I could see from round eight he was getting tired so it was just about going into those reserves at that point and he did that. But full credit to his team who had a really good game plan in regards of how they approached the fight.
"At the same time the way that Dave Coldwell has managed him and stuck by him ought to be saluted because a lot of promoters or managers might have given up after their fighter had lost six times."
Big outsider
Woodhouse was a big outsider coming into the contest and McKenzie believes his opponent paid the price for not asserting his authority from the outset.
"Hamilton is a very awkward fighter and he tends to steal the rounds, but he wasn't the aggressor on the night and that didn't work in his favour," he added.
"I think fighting in Hull maybe went against him - if it had been in his hometown of London it may have been a different story but it wasn't to be for him and that's life.
"It was all about Curtis reaching his destination, he's done that, he's fulfilled his dreams and I wish him all the luck in the world.
Prior to the fight, Woodhouse said he was going to retire regardless of the outcome and McKenzie believes the former Birmingham and Sheffield United defender has made the right call.
"I think his decision to retire is a clever one and if I was in his situation I would have probably done the same," McKenzie said.
"At the end of the day he achieved probably all he could have achieved. To win a British title - he's going to go out on a high so I totally understand his decision to retire I really do.
"Either way he called it before the fight. Win, lose or draw he called it beforehand and you've got to respect that. It''s hard to top something like that - going into a second career and achieving something of that magnitude - you can't really top that."