Sky Academy Sports Scholars: Jack Bateson paired with Johnny Nelson
Sky Academy Sports Scholar Jack Bateson wants to be the best in the world with the help of his new mentor Johnny Nelson.
Last Updated: 03/03/14 10:01am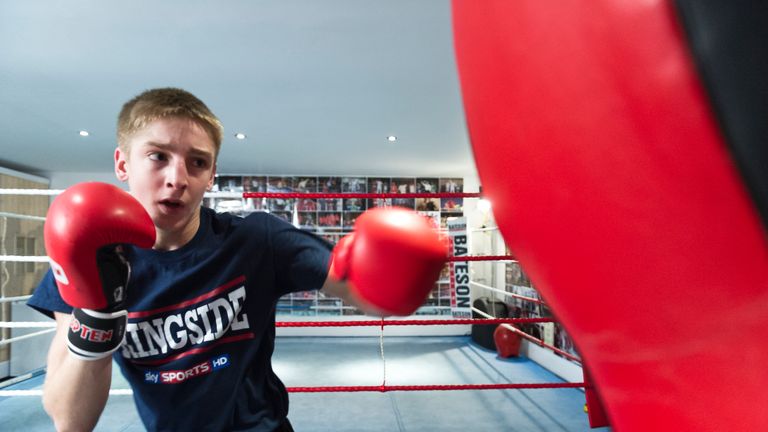 Former world champion and Sky Sports boxing presenter Nelson will be mentoring both Bateson and Irish boxer Jason Quigley as part of the new scheme, and he hopes to pass on all his experience to the youngsters.
Nelson explained that his role as a mentor to Bateson is to offer a helping hand and the benefit of his experience as he hopefully goes on to become a boxing great.
"He's the one that's doing the work, it's just basically having somebody else there that can explain the pitfalls of what could happen, what should happen, and I think it's most important," Nelson told Sky Sports News.
"Sometimes you've got sportsmen out there who you think you just need someone to talk to him to let him know how to present himself on screen and it might just give him that extra mileage in doing his sport.
"I admire Jack, as an amateur I didn't do very well but through determination I got to where I wanted to go - now I see that focus in Jack.
"He's done it as an amateur, to do it as a professional it's a completely different game but he has that experience behind him. I'm just telling him if I can do it, and my amateur background was nowhere near as successful as yours, can you imagine what you can achieve as a professional - and it's just getting that in his head.
"He'll get to the point where he'll think, yeah, you know what, I'm a lot better than you!"
Thrilled
Bateson was thrilled to have Nelson as a mentor, and planned to lean on him to help him through good times and bad.
"It's amazing to have Johnny as my mentor," said Bateson. "For how much he's achieved in boxing, he's been a professional, he's been an amateur, he achieved his goal of becoming a world champion.
"And it's great for me to have someone like Johnny to help me in my times of need whether it's in highs or lows, which everyone gets in sport. Johnny can help me and hopefully he can share his experiences with me and help me come through.
"This year I've got the national ABA's and for me to win them I'd then be selected to go to the Commonwealth Games, which is massive for me, but my main aim is the Olympics in Rio in 2016
"Hopefully working with Johnny, working with Sky and having that backing I can put my all in and with Johnny's help I can have a good go at that.
"I just want to keep on improving year on year, keep on training hard and prove I'm the best in Britain and then the best in the world, never mind Britain."