John Murray sent out a message to the domestic lightweights by stopping John Simpson
John Murray moved a step closer to an all-Manchester showdown with Anthony Crolla by stopping John Simpson in Glasgow.
Last Updated: 01/03/14 10:42pm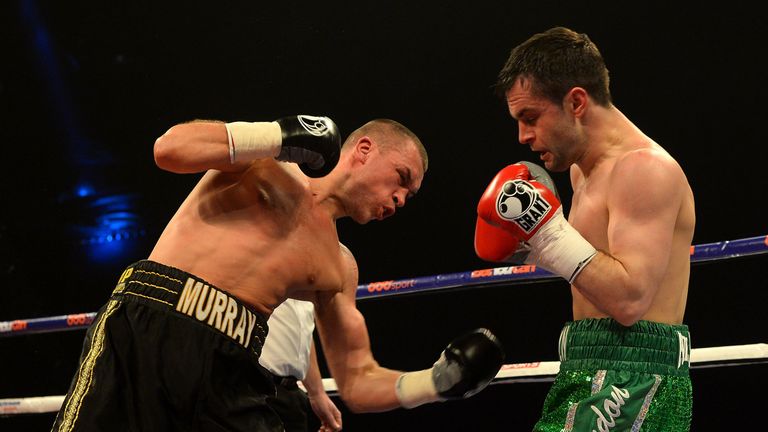 Murray, in his second fight back from a two-year absence, was too big and powerful for Simpson who has spent much of his distinguished career at lower weights.
The former European champion immediately set about the Scot with stinging combinations and it was clear the right hand was causing Simpson problems.
The first round was a one-sided affair but Simpson was more positive at the start of the second as he tried to force Murray back.
But Murray soon adjusted and a rapier left uppercut to the ribcage sent his rival down for the first time.
It was a great shot that the 30-year-old did well to recover from but it wasn't long before he was down again after a hook to the same area.
Murray, now looking for the finish, kept up the work rate and when Simpson was dropped for a third time referee Victor Loughlin brought proceedings to a halt, even though the bell would have saved the veteran.
"I've got a lot of respect for John, I knew he'd test me in there and it made me better in training, and now I'm ready for a big test," Murray told Sky Sports.
"I've had my two comeback fights and everyone wants Crolla in Manchester in April. Me and Crolla will go to war and after the fight we'll go for a pint. We're good friends."
Sparring
Murray and former trainer Joe Gallagher - who also trains Crolla - have exchanged words publicly with Gallagher insisting Murray should work his way back up the rankings.
But Crolla told Sky Sports he would be happy to fight Murray despite the pair being good friends having sparred many times in the past.
"A fight between me and him would be fireworks and I'm welcoming that fight as well, I haven't got a problem with it," he said.
"I've got a lot of respect for John and the fans will be the winner that night. You can't take too much from sparring but we had some great sparring and if it's anything to go by the fans are in for a real treat."
Earlier on the Glasgow card, Gallagher's lightweight prospect Scotty Cardle remained unbeaten with an eighth round stoppage victory over Paul Appleby.
Both fighters were cut early on and Appleby's aggression countered Cardle's more stylish work off the back foot.
With the fight fairly even through six rounds Cardle took control of the centre of the ring for the first time and and Appleby finally started to wilt, and coming out for the final round it was Cardle's for the taking.
Sure enough, a barrage of classy combinations wobbled Appleby and he went down heavily to a right cross, the referee calling it off despite protestations from the Scot.