Julio Cesar Chavez Jr wins clinical victory over Bryan Vera in rematch
Julio Cesar Chavez Jr bounced back from his worst performance with a unanimous win over Bryan Vera in their rematch.
Last Updated: 02/03/14 10:50am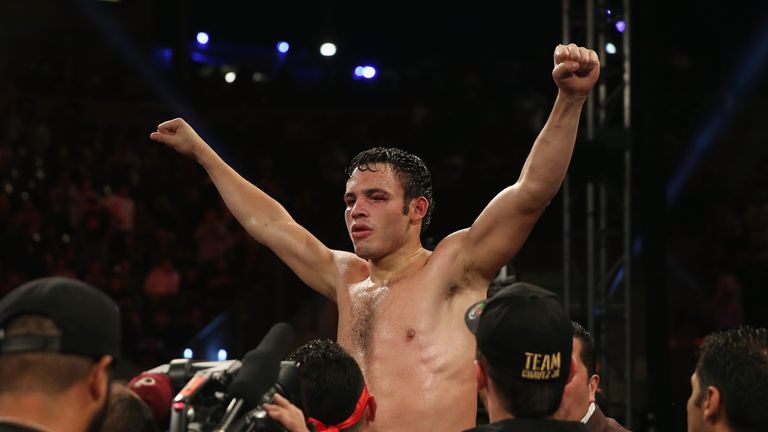 Carl Froch has stated he would like to fight the former middleweight champion, and Chavez Jr showed much more of the ability that would make that future fight a good one in this rematch.
After showing up overweight in their last fight, Chavez was in much better condition and produced a much better performance as he won a convincing points decision 117-110, 117-110 and 114-113 in Texas.
Both men fired in big bombs but both also showed their granite chins as they battled it out for 12 rounds, with Chavez much happier with the performance despite picking up a hand injury in the 10th.
"It was a better fight this time," Chavez said. "I won clearly. I threw a lot more punches. I proved I'm a better fighter than Vera.
"I hurt him, but I hurt my hand and I decided to keep my distance because he's a very dangerous fighter. I gave a good fight, this was a better version of myself but I will give more for the people."
Vera claims
Vera also claimed he had a hand injury, and also rather bizarrely claimed he thought the fight would only be a 10-rounder until four days before stepping into the ring.
"You can see it's swollen, but I'm not making no excuses," he said of his hand. "Just being lazy and the fight got away from me. I just got hit too much."
"I don't want to make excuses, but I found out four days ago it was a 12-round fight. We tried for a 10-rounder. I mean, it's always something different in this boxing. But I'm a fighter, I always give everybody a great fight. I'll always be here."
With Froch's attentions firmly centre on George Groves for now, Chavez's promoter Bob Arum says that undefeated middleweight champion Gennady Golovkin would be his preferred next fight - and his man agreed.
"I like that fight because Golovkin is a great fighter, a strong fighter and undefeated, one of the best in the middleweight division," said Chavez. "I want to fight him next."