Eddie Hearn talks up Carl Froch v George Groves II at Wembley
Eddie Hearn believes Carl Froch v George Groves II will be 'the biggest fight in British boxing history.'
Last Updated: 08/05/14 3:36pm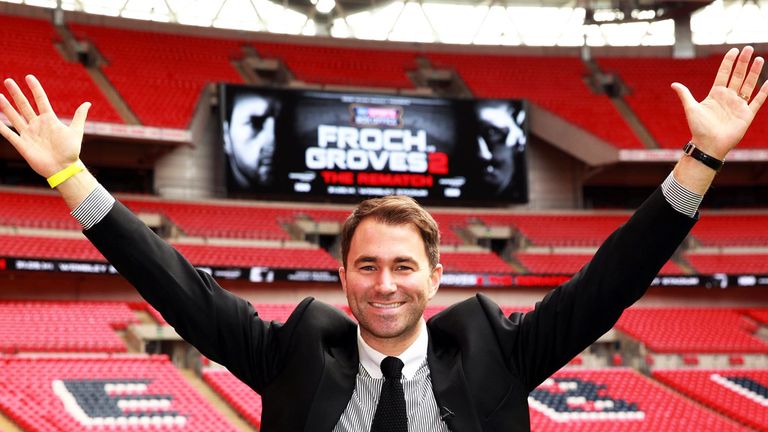 Nottingham veteran Froch, 36, controversially retained his IBF and WBA belts via a ninth-round stoppage of a valiant Groves back in November - the Londoner subsequently winning an appeal to the IBF for a rematch.
Negotiations hit several stumbling blocks as 'The Cobra' entered talks to fight Julio Cesar Chavez Jr, but the weight of public demand has won out and Hearn is relishing a huge night for the sport at the home of English football on May 31.
Speaking to Sky Sports News at Wembley Stadium, Hearn said: "When I walked out here for the first time, walked through the tunnel looking at venues, I remember phoning Barney Francis, Carl Froch and George Groves and saying: 'This is the place.' This is the national stadium, the biggest in the country.
"We need to make a statement and ultimately we need the seats for a fight of this magnitude. Knowing this place is going to be filled with fight fans on May 31st is an incredible feeling.
"People talk about if it is the biggest fight in British boxing history and I believe so. Will it be the biggest live gate? I believe so. Will it attract the biggest revenues? Yes, I believe it will.
"It's not just the numbers - it's about the fight itself. It's about the animosity, the rivalry and just how good that first fight was. Everyone knows how good this second fight is going to be.
"The tickets go on sale next Monday and it'll be interesting to see how quickly they go because for the first fight, 21,000 sold in 12 minutes so to have this place full up would be something very special.
"As a boxing fan myself, I wanted to come and make a big statement. Let's roll the dice. I think we've got the product and when you have the opportunity to fill stadiums like this, you've got to grab it with both hands.
"This is the ultimate in my opinion. It's the first fight in the new stadium and what a fight to do it. It's going to be an unbelievable night.
"I have to take my hat off to Carl Froch because he's effectively coming to George Groves' hometown but Carl's done that for much of his career. For George, he's coming from west London.
"The thing about this fight is that it reaches out to the casuals. There are fans who perhaps don't have a favourite but they will have after next Monday because that's when the first press conference is. Then we'll take the fighters around the country on a tour.
"Obviously, Froch went into the first fight as the fans' favourite but Groves probably emerged from it as the fans' favourite. That will all swing and change with the banter. The build-up for this fight is going to be red hot and it will build the anticipation on the night.
"We're speaking to TFL and we'll go on sale with 60,000 tickets immediately. We'll look to increase that capacity as the tickets are sold and will speak to TFL again for their ruling on that. The fight start time will be quite standard - you're looking at around a 10pm fight time.
"We're capped at an 80,000 limit. It would mean pretty much a full stadium - I think we're looking at around 7,000 on the pitch itself. If you imagine the ring in the middle, every seat is a good view and you've got big screens all around the place as well. The atmosphere will be jumping.
"Obviously the England game is the night before and we've worked tirelessly with Sky Sports and with the FA to make sure that logistically it's all possible. It's all arranged now.
"Tickets go on sale next Monday at midday after the first press conference, which will be broadcast live on Sky Sports News. All the ticket information will be published this week and tickets will start at just £30 to make it as accessible as possible to the casuals.
"I joked with my old man the other day, because he did Nigel Benn v Chris Eubank II at Old Trafford and had 44,000. I said to him: 'We're going to give you a pasting on that one!'"