Dereck Chisora and Tyson Fury clash in July for a crack at Wladimir Klitschko
British heavyweights Dereck Chisora and Tyson Fury will meet in a WBO eliminator in Manchester on July 26.
Last Updated: 17/03/14 4:08pm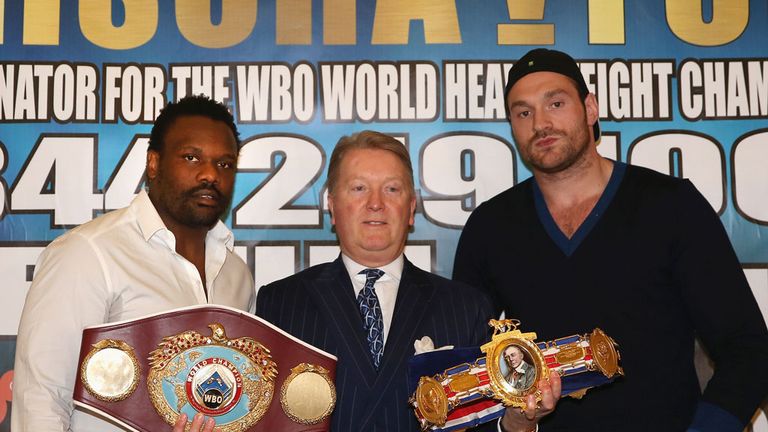 The bout is a rematch of the one-sided July 2011 contest where Fury outpointed Chisora to claim the British and Commonwealth titles.
Promoter Frank Warren took to Twitter to announce the fight which will secure the winner a crack at WBO, IBF and WBA champion Klitschko.
Chisora, who has vowed to avenge the Wembley Arena loss, said: "Tyson Fury is in my way and I'm going to smash him out of it and get the world title fight against Klitschko.
"Yes, Fury beat me last time, but that was at the worst time of my career. You're seeing the best of me now and there's no way Fury can deal with that. He hasn't moved on in his career since he beat me, I've been fighting at a higher level while he's been fighting nobodies.
"This time I'll dump him in a heap in the ring. He's still got it in the back of his mind that he's beaten me, he won a battle, I'm going to win the war."
Fury countered that, while the last fight went the full 12 rounds, this one is destined to be shorter.
"It's set to be a great night in my home city, the night I earn my dream world title shot in front of my home fans," he said. "It means I have to go over old ground and batter Chisora again, but if that's what has to be done, I'll do it and in much better style this time.
"That fight was nearly three years ago, I've moved into world class since then and remained unbeaten. I'll give it to him, Tubby has shifted that spare tyre around his waist and got himself into shape, but he can't build muscle on his chin and when I land on it he'll be knocked clean out.
"Get one thing clear, I'm getting the world title fight against Klitschko, I'm the best in Britain and you'll see why on 26 July."