Tyson Fury to organise behind closed doors fight ahead of Dereck Chisora rematch
Tyson Fury is planning a competitive behind closed doors fight during April to help him prepare for Dereck Chisora.
Last Updated: 20/03/14 8:26am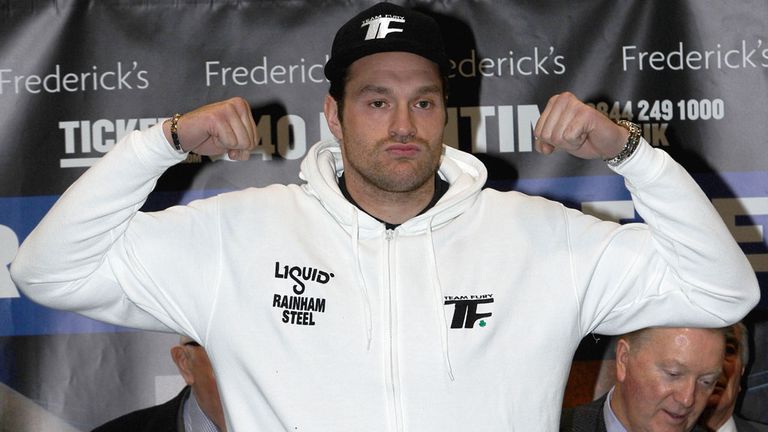 Fury had hoped to do battle on April 12, which should have been his second warm-up bout ahead of his WBO final eliminator against Chisora.
But that date has been shelved, leaving the Manchester boxer without any meaningful action before his heavyweight clash with Chisora on July 26.
However, the 25-year-old says Carlos Takam of Cameroon will now be flown in to Britain for a full-on 12-round sparring session behind closed doors.
Fury had also been due to fight David Haye last month - the latter pulled out in November - and he is becoming increasingly frustrated by his attempts to organise a serious competitive fight ahead of this summer's big bash in his home city.
Selfish
He said: "I will not be inactive or waiting around for anyone, dancing to other people's fiddle. It's all about me. You have to be selfish in boxing.
"I'm very disappointed that I won't be fighting on April 12. I'm not allowed to fight in that and not allowed to have a six or eight rounder anywhere else.
"It's about trying to keep me inactive. They want me not to fight and go off the rails, putting weight on and not train properly. I'm ready to fight now and it's sickening that I can't fight.
"I'm still being paid whether I fight or don't but I'd rather be fighting and they need every edge they can get.
"On April 14 or 15 I'll have a gym fight with Takam. We'll do 12 threes and I might have to give him money.
"It will be behind closed doors, it won't be sold to the media. There won't be any judges there. We'll go at it and whatever happens in the gym will stay in the gym.
"He's six-foot, two-inches, and 18 stone so is perfect preparation for Dereck. So I'll be getting a fight in whether they want me to or not.
"I'll take time off after that, then come back into gym in May to prepare."
The vacant British belt is on the line and Chisora has been cleared to defend his European title after Kubrat Pulev pulled out of a possible challenge against the Londoner.
"There's so much on the line for both men, the winner will get the number one spot to Klitschko, the vacant British title is up for grabs and now Chisora's European title has been added," said promoter Frank Warren.