Amir Khan has signed to fight Luis Collazo on the show headed by Floyd Mayweather
Amir Khan will fight Luis Collazo on Floyd Mayweather's undercard in Las Vegas on May 3.
Last Updated: 26/03/14 1:59pm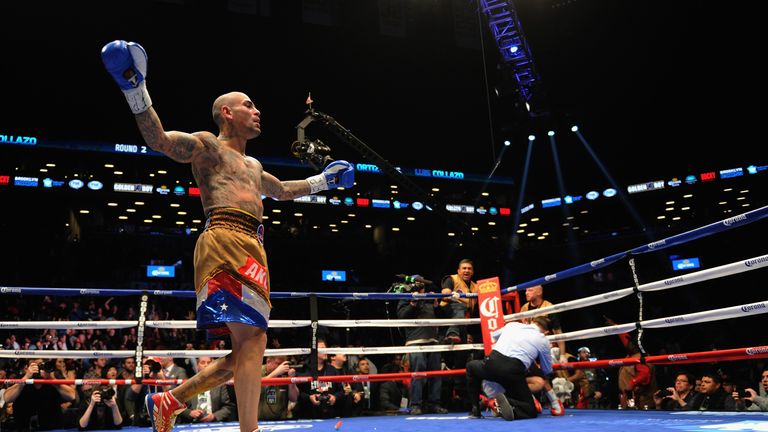 Khan will be making his debut at welterweight against a former opponent of Ricky Hatton.
It will be his first fight since Khan struggled to victory against the veteran Julio Diaz in Sheffield last April.
The Bolton star had hoped to take on Mayweather but the American superstar chose instead to fight Marcos Maidana and that bout will top the bill.
Khan will hope victory over 32-year-old Collazo will propel him closer to what would be a lucrative showdown with Mayweather.
Hatton also made his welterweight debut against Collazo in Boston in May 2006, when the Manchester man was considered lucky to escape with a unanimous decision win.
Collazo will go into the fight with a record of 35 fights and five losses and is on a four-fight winning streak, including an impressive second-round stoppage of former WBC champion Victor Ortiz in January.
"He gave Ricky a tough fight back in 2006 and we know it's not going to be easy," he said. "He's had a good win in his last fight so he's going to be confident and come to fight.
"It's going to be my first fight at 147lb so he's going to come at me with everything. We are going to be ready for this and we've been waiting a long time.
"I've had a long break, but I've been in the gym and working on mistakes I've made, getting strong and taking time to relax and not think about the boxing side of it.
"I've been working non-stop though, having some great sparring sessions that will hopefully keep off the ring-rust so I'm going to come in there and give it 100 percent.
"The fight with Mayweather will happen in the future, but I'm just going to concentrate on one style which is Collazo's.
"I'll probably be at ringside for Mayweather's fight against Maidana and will call him out again in the press conference so we'll have to see what happens.
"I think he wants the fight and there's a lot of public demand for it. There's not a lot of fights out there for him so if he wants to have another three fights in his career I have to be one of them."