Enzo Maccarinelli claims he has the right mentality to beat Juergen Braehmer
Enzo Maccarinelli claims he has the right mentality to beat WBA light-heavyweight champion Juergen Braehmer.
Last Updated: 02/04/14 6:06pm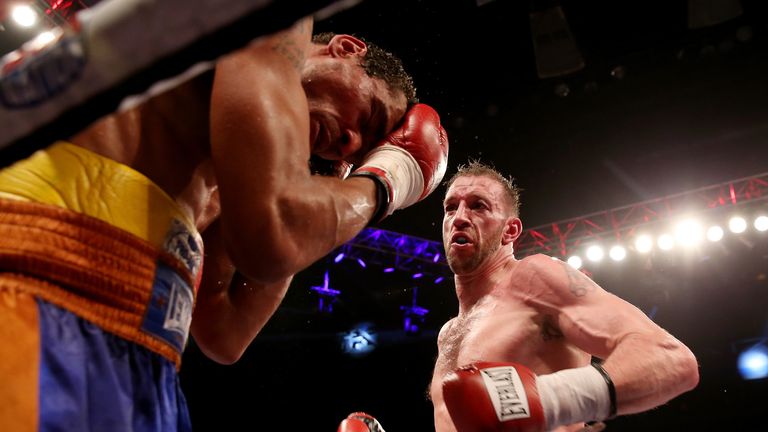 Former WBO cruiserweight titleholder Maccarinelli faces Braehmer at the Stadthalle Rostock in Germany and the Welshman is confident he can cause an upset against the reigning champion.
Speaking at the final press conference ahead of Saturday's fight, Maccarinelli: "It is an honour to get the chance fighting again for a world championship.
"I respect Braehmer but he won his last fights because his opponents were afraid to press the action against him.
"I am different - I have the mentality of a world champion. Do not blink as soon as the first bell rings."
Maccarinelli's trainer Gary Lockett says his man is in peak condition and is backing him to come out on top against Braehmer.
Lockett said: "Juergen Braehmer is a quality operator. I saw him beating up the best boxers as an amateur and now he is a former WBO and current WBA world champion. We trained hard and I believe that Enzo will be at his peak come fight night. One punch might be enough to make history."
Braehmer told the press conference he is confident that the title will remain in Germany.
Fists fly
He said: "Maccarinelli can let his fists fly as much as he wants, I will be the one landing to decisive punches and that is all that matters. The WBA world title will not change hands but my hand will be raised on Saturday."
Karsten Roewer, who is Braehmer's trainer, does not expect the fight to go the distance and claims the 35-year-old champion has chosen gloves with more cushioning because he does not want to hurt Maccarinelli.
Roewer said: "I do not think that this fight is going the distance. Juergen, at 35, still showed progression during preparation.
"We chose to use the gloves with the most cushioning for Saturday as Juergen does not want to hurt Maccarinelli too much."