Jason Cook fighting for his future in Saturday's Prizefighter
Former European champion Jason Cook admits his career is on the line in Saturday's Prizefighter.
Last Updated: 04/04/14 11:09am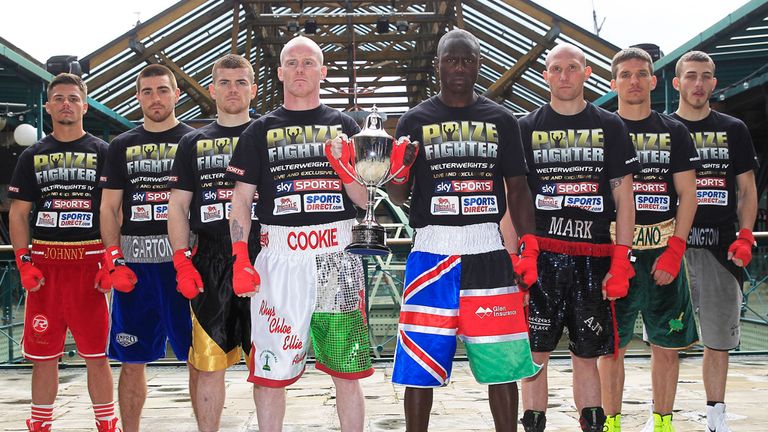 The 39-year-old Welshman put off retirement plans to pursue one more shot at glory in this weekend's welterweight tournament at York Hall, Bethnal Green, live on Sky Sports.
Cook's European title win came back in 2002, but the former Prizefighter semi-finalist is fully aware of how success in the competition can transform a fighter's fortunes.
"The training is going great, I am with a youthful trainer who is giving me different methods and I just love the sport still. I couldn't turn this opportunity down," said the Welshman, who halted Tony Pace in February.
"When I boxed in Prizefighter four and a half years ago, I lost to Gavin Rees in the semi-final and there was no shame in that. That got me a British title shot, so winning Prizefighter could give me another title shot. There are a lot of good prospects in it who will be looking to build off Prizefighter as well.
"I am confident of winning, but it is a three-round shootout, a penalty shootout in a sense. As long as I perform to my standard I am capable of winning it.
"I will see how my body responds afterwards. If I look terrible in Prizefighter, then yes I will call it a day, but it I look good while I am in it then it is just seeing how the body responds really."
Dean Byrne is another fighter who is hoping to revive his fortunes in the three-round format.
The Irishman suffered a brave stoppage defeat against Roman Belaev in February, but was hampered by inactivity, having fought just once in 2013.
He believes his domestic rivals avoided him after an impressive draw against respected American Carson Jones.
"I don't know if it was my Carson Jones performance, and after that I couldn't get anyone to step up to the plate," said Byrne.
"In Prizefighter everybody wants the £32,000 and everybody wants to fight. It is a big chance for everybody and it is all or nothing. Everybody will be trying really hard and going for it, and I am looking forward to it, it is going to be exciting.
"I took the Carson Jones fight to prove to people that I still had it, that I still had that fire in my belly, and that I still believed that I can mix it with the best in the world. I thought I would take the fight, beat him, and jump up from there.
"I think my performance was very good, I thought I won the fight, but after that everything went down and I didn't get any fights. I was really unlucky."
Unbeaten duo Johnny Garton and Johnny Coyle also feature in the line-up, joining former British title challenger Erick Ochieng, Commonwealth Games gold medallist Paddy Gallagher, Sam Eggington and Mark Douglas.
John Ryder battles Jez Wilson in a British middleweight title eliminator, while Ricky Boylan and Wadi Camacho return to action.