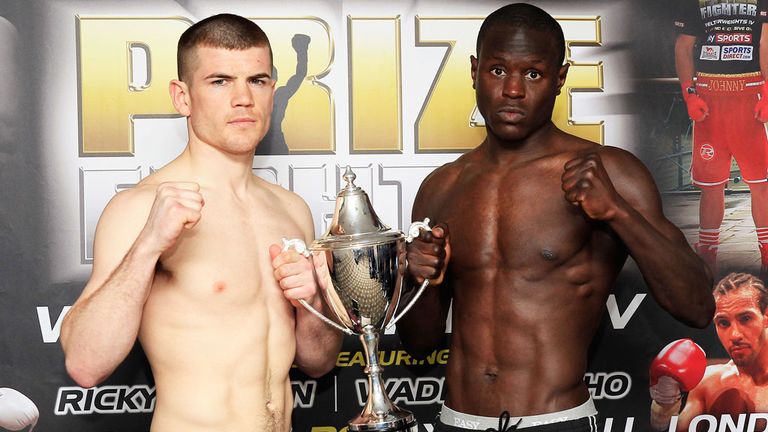 Paddy Gallagher has turned to a former Prizefighter champion for advice as he prepares for Saturday's welterweight tournament.
The Commonwealth Gold medal winner hopes to land the £32,000 winner's cheque in the eight-man competition at York Hall, Bethnal Green, live on Sky Sports.
A broken hand has restricted the Irishman to just four fights since he turned professional in September 2012.
The 24-year-old admits he is taking a gamble by entering Prizefighter, but has picked up tips from Eamonn O'Kane, a previous winner of the middleweight tournament.
Gallagher, who was drawn against Erick Ochieng in the quarter-finals, said: "It is a risk to enter Prizefighter but you go into every fight taking a risk, no matter who it is.
"Even if it is a journeyman you are fighting, it is always taking a risk. This is just another one of those risks for the record. If things pay off then it is all for a better reward.
"I have been sparring Prizefighter champion Eamonn O'Kane. He boxed last night so we have been working with each other in our training camps.
"He has been impressed with me and has been telling me things and given me a few tips about how he did it and the way he worked out things. Everything is going well that way, it has been good to have a bit of insight from him.
"He told me to me to try my best and go and win it. You need to treat it as one fight at a time rather than thinking you will be doing nine rounds, because if you lose the first fight you will only be doing three rounds on the night and that is it. You get that three rounder dealt with, and then you worry about the next three rounds.
"Hopefully things go well tomorrow and I win this and I keep going and going from there."
Waiting for the winner of Gallagher-Ochieng will be either Dean Byrne or Mark Douglas, who meet in the second quarter-final.
Quarter final number three pits the unbeaten Johnny Garton against Sam Eggington, with the victor facing either former European champion Jason Cook or Johnny Coyle.
In between the three-rounders John Ryder battles Jez Wilson in a British title eliminator, while light-welterweight Ricky Boylan and cruiserweight Wadi Camacho are also involved in six-rounders on the bill.