Eye injury ends Enzo Maccarinelli's bid for WBA light-heavyweight title
A horrible eye injury ended Enzo Maccarinelli's bid to win the WBA light-heavyweight title from German Juergen Braehmer.
Last Updated: 06/04/14 11:42am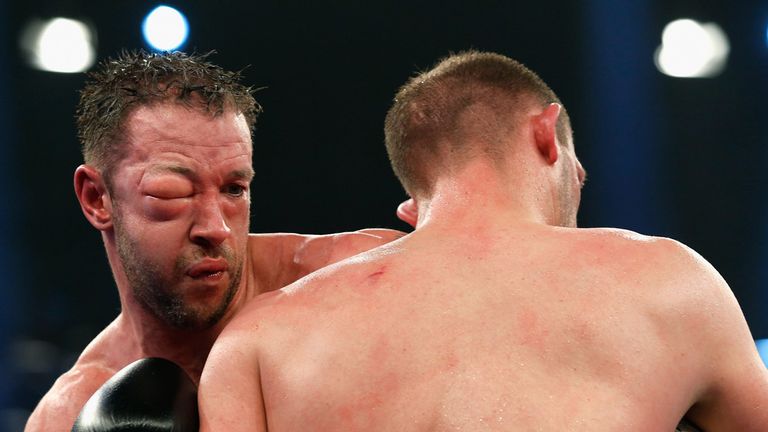 The Welsh challenger suffered a heavily swollen right eye in the first round in Rostock and although he fought bravely until the end of the fifth, his trainer Gary Lockett retired his charge on his stool, telling the referee: "I can't let him go on, not with his face like that."
The 33-year-old has suffered a series of stoppage defeats since his world cruiserweight title showdown loss to David Haye six years ago and the defeat is likely to see further calls for him to retire.
The Swansea veteran felt he had another shot at a world title in him and he started well, standing up to the German despite picking up the ultimately-decisive eye injury midway through round one.
Two more punishing blows from the German made the problem worse before the bell.
Retired
Maccarinelli's swollen eye was causing him problems at the start of the second with his vision now impaired, and Braehmer did his best to take advantage, launching some swinging hooks on his blind side.
The challenger was almost retired on his stool at end of second round but he battled gamely on, surviving the third round and then starting the fourth on the front foot, landing a crisp left hook that briefly rocked his opponent.
But still the eye injury remained - the swelling now creeping down his cheek - and Lockett warned his fighter than he had one more round left before he had to throw in the towel.
That prompted Maccarinelli into one final push at the start of the fifth, but he failed to land a telling punch to end the contest and Lockett called a halt before the start of the sixth.
The defeat was Maccarinelli's seventh from a 45-fight career, while Braehmer improves his record to 43 wins, also from 45 bouts.
The German said: "When you see it like that, you want to hit it even more. That's boxing. I caught him well with my left. Then I wanted to be too spectacular. I wanted too much. It was good that it ended then."